The texture of leaves can have a big impact on the beauty of a garden yet it is often ignored. Just think about the contrast between the foliage of ferns as compared to that of southern magnolia. Or consider the difference between the shiny leaves of begonias and the dull leaves of oak leaf hydrangea . Since leaves are usually present in the garden much longer than flowers they can be used to create mood and bring interest in the garden when flowers on coming or going.
Here are five plants that have leaves with unique textures but there are many other possibilities and these are just a sampling. Plants with small leaves and/or short stature are best used at the front of the border where their uniqueness can best be appreciated.
http://catherinecrouch.com/artwork/2251588_STRANGER_INSIDE_Directed_by_Cheryl_Dunye.html Lamb's Ear (Stachys byzantina)


A herbaceous perennial native to Turkey, Armenia and Iran, lambs ear is a member of the deadnettle family, Lamiacea, that also includes mint, lavender and salvia. The leaves are thick and covered with hairs so are susceptible to melt out in humid areas. Most cultivars produce small pink flowers in spring but the plant is grown primarily for its leaves. 'Big Ears' is an outstanding cultivar.
Height: 6" H
Light: Full sun with afternoon shade in the South.
Soil: Average, dry to medium, well-drained soil; drought tolerant once established.
Hardiness: Zones 4-8.
Ikalamavony Ornamental Cabbage (Brassica oleracea)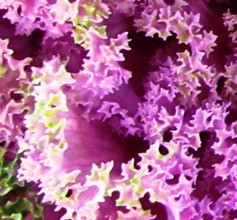 The ruffled leaves of some ornamental cabbages combined with their variegated colors, make them especially valuable in the fall when they thrive in the cool weather.
Height: 1-3'
Light: Full sun
Soil: Fertile, moist, well-drained.
Hardiness: Usually grown as an annual
Creeping Raspberry (Rubus pentalobus aka R. calycinoides)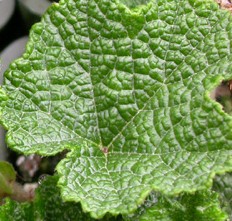 This evergreen prostrate perennial is native to Taiwan where it grows in grasslands and thickets. belongs to the rose family, Roseaceae and is related to blackberries and bosysenberries. It's richely textured leaves make a good groundcover in sun or shade and often red in the fall. The white flowers appear in the summer that are followed by red berries.
Height: 6" or less
Light: Sun to part shade
Soil: Average, moist to dry, well-drained
Hardiness: Zones 7-9
Eulalia (Miscanthus sinensis) 'Morning Light'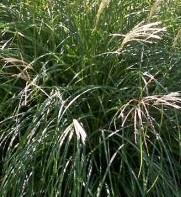 There are many fine Miscanthus but 'Morning Light' is one of the best. It is a perennial grass noted for is long narrow green leaves with white margins that give it a silvery look. Plants are cut back in late winter or early spring and new growth becomes established by summer and persists into winter. Flowering occurs in the fall and provides winter interest.
Height: 4-6'
Light: full sun to part shade
Soil: average, moist, well-drained
Hardiness: Zones 5-9
Ruffled Fan Palm (Licuala grandis)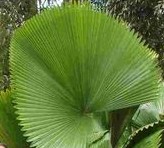 Native to the rainforests of the South Pacific, the ruffled fan palm makes a good container plant for North American gardens. Its circular pleated leaves are up to twenty two inches across and have a notched margin. The fruits are bright red berries produced in clusters.
Height: 9'
Light: Full sun if humidity high
Soil: Fertile, moist
Hardiness: 10b-11