Hamar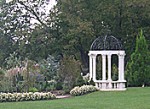 Cool temperatures continue and two good rains provided moisture this week. Color is being added daily to the long lasting bloom of previous weeks by new flowers and developing buds. The early mulch we put on this year has done a great job of suppressing weeds and thereby increased the joy of gardening. With some warm weather coming we can look forward to planting the warm weather annuals.
http://dardogallettostudios.com/index.php/tango-at-home-free-advance-partnering-step/ One of my greatest joys this week was the flowering of my foxglove "Foxy". I started the plants from seed last summer but didn't get around to planting them in the garden until late August. They were too immature to bloom last year but over wintered well and this week the first one produced a spike laden with pink blossoms.
My second greatest joy is the rose 'Aunt Ruth'. This is the first rose to bloom this year on the huge frame built by the head gardener three years ago. We have planted several different roses in the past few years and none have done well but this year could be different and we hope that "Aunt Ruth's' success is a harbinger of good things to come.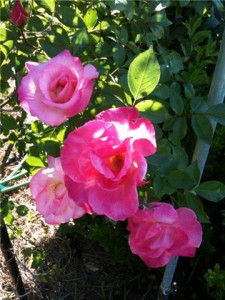 Lady Banks rose gets more lush every day. It has been blooming for three weeks.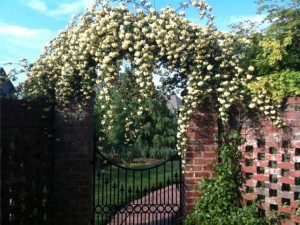 The rose 'Sombreuil' climbs on the wall next to 'Lady Banks' with its heavenly fragrance.
This mannerly climber has large, flat, and quartered flowers with a tea fragrance.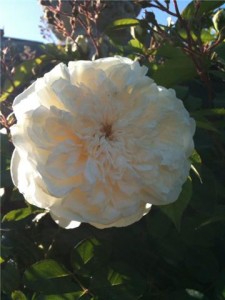 Many other trees and shrubs are looking good too. The flowers of snowball viburnum have turned from green to white .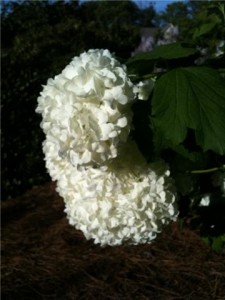 The flowers are so large and heavy they are weighing down the bush.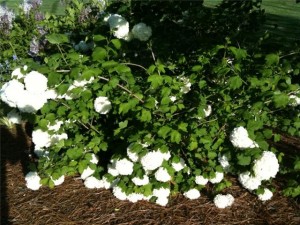 Another viburnum with gray-green leaves shows off its floral display.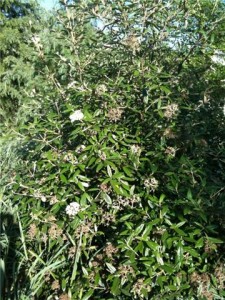 The flowers of this viburnum are very different from the snowball variety and stand upright on the stems.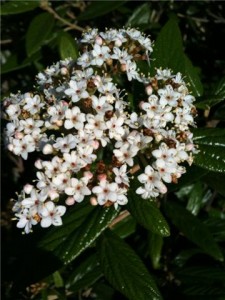 The weeping elm has put on its coat of leaves. I like this tree with or without leaves; the winged, weeping branches are attractive all winter.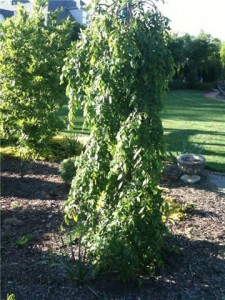 The 'Miss Kim' lilacs are looking good. These lilacs are related to ommon lilacs (Syringa vulgaris) but are a different species (Syringa pubescens subsp. Patula) and are slow growing and shorter.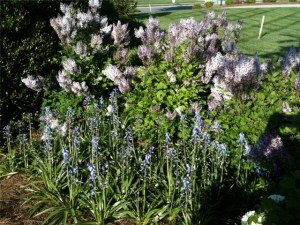 The flower trusses are smaller and less fragrant but the plants grow well in the South where common lilac may not be chilled enough to bloom well.
You may think pine trees look the same all year but a close look at this Japanese white pine may change your mind. Some branchs bear clusters of small pollen cones.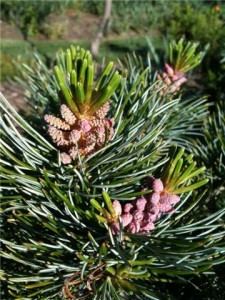 Other branches bear large seed cones that will become woody pine cones that will persist for several years.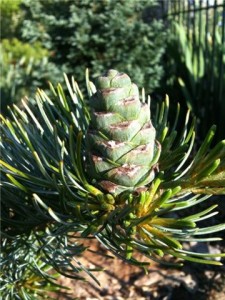 Remember all those holly flowers in my garden a few weeks ago? They are now green berries and on their way to becoming red. Looks like a great crop for this fall.
My white scotch broom 'moonlight' continues to bloom well and is joined by the orange flowered broom 'Pomona'.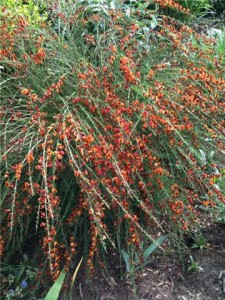 The luscious shades of orange of these flowers provide a big impact in the hot border of the formal garden.
The Blue False Indigo, Baptisia qustralis, that opened last week was joined by the yellow flowered one,  B. tinctoria.
The flowers of both are pea like, much like those of the scotch broom.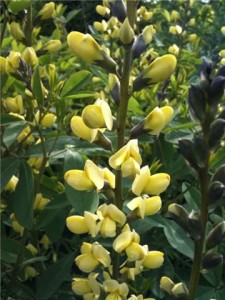 The amsonia is just beginning. This is a triple season plant with pale blue flowers in spring, lacey green foliage in summer, and golden yellow in fall.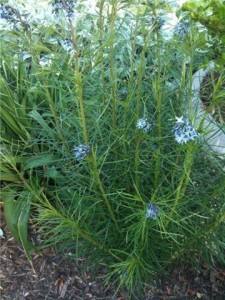 The Dianthus 'Fire Witch' is now joined by the Dianthus 'Brilliant' with its more spreading habit but less bloom time. It will bloom again in the fall.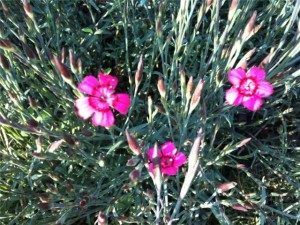 The verbena 'Homestead Purple' is taking hold and one plant has produced a flower. I grow verbena every year but find that it does not reliably come back. Last year I took cuttings, over wintered them, and planted them in early spring. This is my result so far.
The iris garden continues to add new flowers. This week the twice-blooming 'Total Recall' burst forth.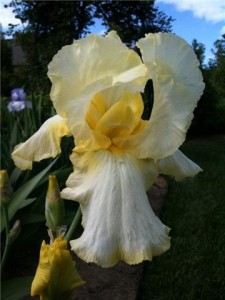 This white clump of Siberian iris stole the show.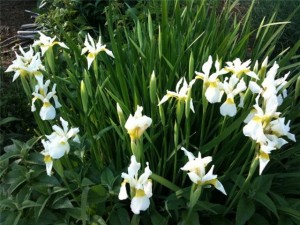 The white falls are accented with a buttery yellow-gold beard.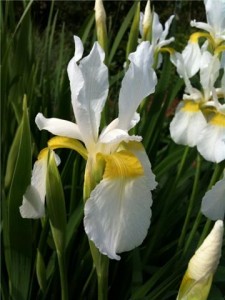 The lily of the valley has finally presented it self in full flower, just in time for May Day.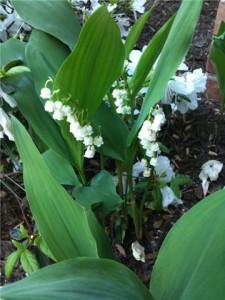 The cut leaf Japanes maple makes a nice backdrop for the lily of the valley.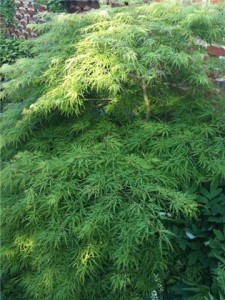 The leaves are highly dissected and a lovely shade of light green.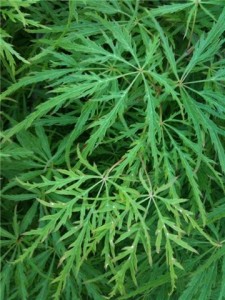 The first peony, 'Do Tell', has bloomed. It is one of my newest additions; I planted six roots of 'Do Tell' last fall as a backdrop for some of the new irises. They have all come up and have produced buds (and the one flower) considerably earlier the older peonies near by.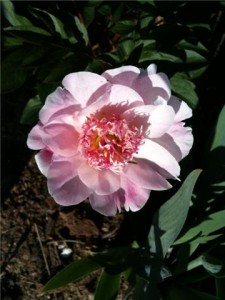 The American wisteria is covered with flowers.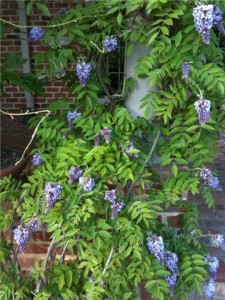 The flower clusters are chuncky and not nearly as pendulous as the Asian kinds but the vine will rebloom.
The white azaleas are done and have dropped their flowers onto the hostas that are coming up around them.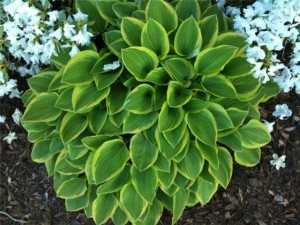 The hosta 'Francis Williams' is beginning to unfurl its giant leaves of m any shades of green.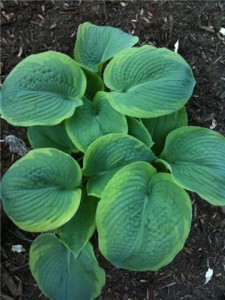 Our chives have returned and give the first color to the herb garden right outside the kitchen door.