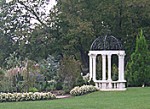 As summer winds down the hot humid days of August have slowly ebbed and we have been blessed with some dryer air and cooler temperatures. Some rain has fallen but not enough to do with out the irrigation system, but enough to cool the plants off a bit once in a while. Rain water always seems to be so much better at that than the irrigation system; I've never figured out why.
The beginning of August saw the last of the true lilies.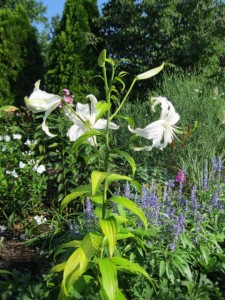 Mildew got a lot of the phlox, even the resistant cultivars, but the white flowers of 'David' still looked good with artemesia 'Powis Castle'.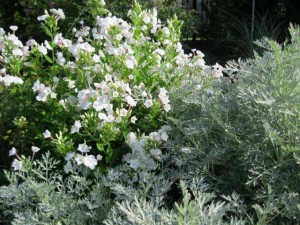 Although the lamb's ear has turned to mush "Powis Castle' has done very well. This planting consisted of 3 plants but only one remains and it has become quite a large and lovely mound.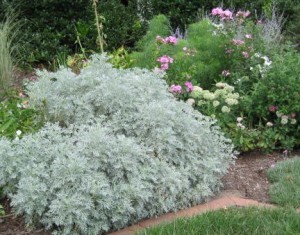 The artemesia is not the only mound that has out grown in spot. Rue, with its fine blue-green foliage needs a change of venue but I hate to move it and risk losing it.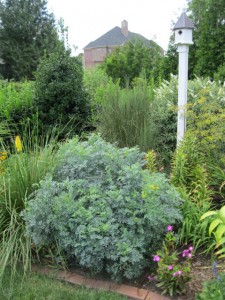 Mounds are popular in my garden right now. This huge miscanthus 'Morning Light' has done well but shows no sight of blooming yet.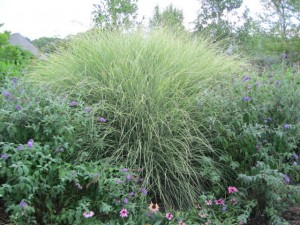 Other grasses, however, are just beginning. The wispy pink fluff of purple muhly grass flowers is just visible.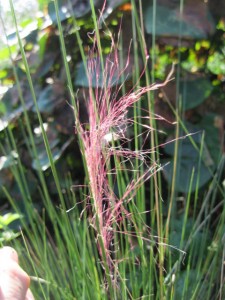 Muhly grass is a interesting plant. It sits in mid border all summer long doing very little until August when is suddenly bulks up and makes its presence known. It makes a wonderful see through plant for the front of the border too.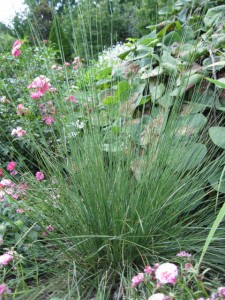 The black flower stalks of Pennisetum alopecuroides 'Moudry'have begun to show themselves, always a welcome sight and a good source of material for fall arrangements.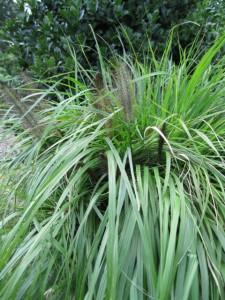 Another fall favorite is goldenrod. I like it best as it begins to open when the flowers are showing a lot of green.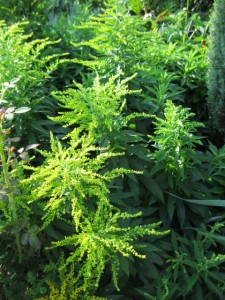 The full trusses of bright gold that develop over a couple of weeks, however, add a lot of color and testure.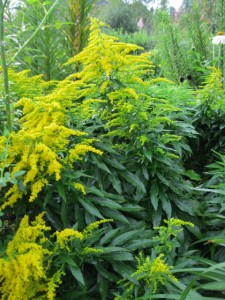 Another goldenrod, 'Fireworks', blooms much later but its long bud bearing stems provide an airy background for the black eyed Susans and lantana that grow in front of it.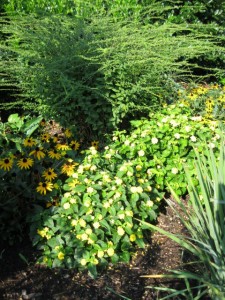 Boltonia is another fall favorite, although its huge size is quite intimidating to the plants that grow near it. The great show does not last long and the huge mass will have to be cut back in a week or less. Too bad. It's a dynamite look while it lasts.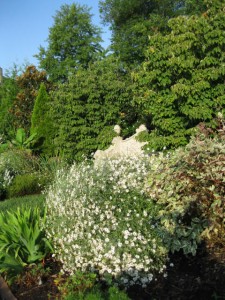 If there is one plant I can not be without it is Sedum 'Autumn Joy' ! It is a joy from spring to fall starting with the rosettes of blue-green leaves that are sighted in early spring, and continuing all summer as the buds form, and then slowly turn pink, then brick red.
Late summer into fall is the time for asters. The little ones I bought at the local farmer's market several years ago are pumping out their flowers.
Meanwhile, the aster "Alma Poschke' is forming a huge mound and about to bloom with its hot pink flowers while Russian sage fades in the background.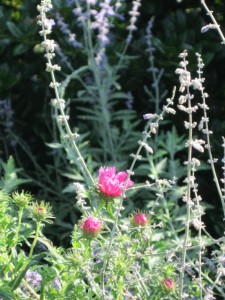 The late summer garden is made brighter by the annuals that are still chugging along. Salvia 'Victoria' is a staple, providing its blue color throughout the border.
I can never resist gomphrena and my all time favorite is 'Strawberry Fields', shown here growing with an unidentified celosia.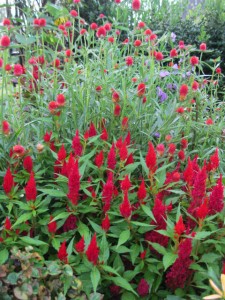 New to my garden this year were morning glories. Started from seed, they have been growing steadily throughout the summer, and now finally producing flowers. Their exuberance is overwhelming and they are about to climb into the wisteria that is certainly not a shy neighbor.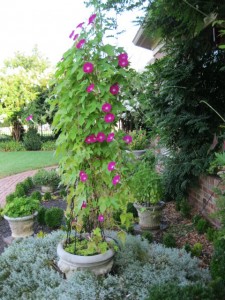 This old fashioned plant balsam lightens up a shade spot among azaleas with hostas of various kinds.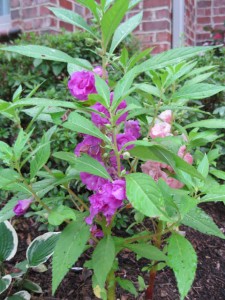 The rose garden was hit by tragedy this year; about half the roses very suddenly, in the same two week period, developed the deadly disease rosette. Although the bushes generally look healthy and are producing masses of flowers, the tell-tale stems showing the disease are appearing, announcing the fate of the bushes. This infected branch from 'Ballerina' is typical, although the infected branches of some of the plants are more red in color.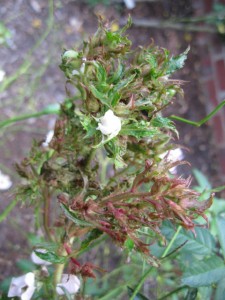 The good news, however, is the vegetable garden. Tomatoes and squash are pretty much over, but the eggplant and peppers are gearing up for a bountiful crop if the flowers on them are any indication. The pole beans, however, are the stars of the vegetable garden right now, producing a meal's worth of beans every day. Two weeks ago I could only get 5-10 beans every 2 days so this is quite a welcome change.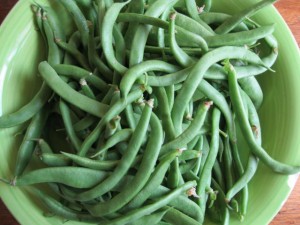 Time to get some lettuce planted, perhaps some beets and radishes too.