When it comes to a Father's Day gift for a dad that is a gardener, do you want to buy something that is useful? Or something that will make Dad feel special? Do you want to give Dad a token gift so that he knows that you love and remembered him? Or do you want to go all out? Here is a list of gift ideas to fit a variety of circumstances and budgets. I begin with the most practical.
1. A bar of soap designed for a gardener's hand s. This seems to run under $10 and is a great blessing to anyone who has to wash the sand, mud, or clay off his hands. These soaps are usually vegetable based and contain fine pumice. They are very effective and last a long time.

2. Trug for hauling everything. I recommend one that is made of rubber and so is very flexible and light. It can be used for weeding, mulching, watering, and hauling compost or soil…anything a gardeners wants to haul around. These are in the $20 dollar range depending on the size; I have the largest one I can carry.
3. Gloves to protect the hands during difficult chores. Men need gloves when they handle rough, sharp, or thorny items. Good gloves will allow freedom of movement even in delicate jobs, allow the hands to breathe, and be made of durable materials that can withstand a variety of abusive chores. Other good features to consider are padded palms and reinforced fingertips. Personally, I also like a feature that will prevent dirt and other debris from coming into the gloves. Long length or a tight band around the wrist will do that but I don't think men are much into this feature. These will run from $20-40 or more.

4. Pruning shears for a myriad of clipping chores. A good pair of pruning shears makes light work of some grueling garden chores. A decent pair will probably cost about $30-40 and could cost more but are worth every dollar. You want to be assured that the blades are good quality so they will hold their sharpness. Dull shears are no help at all. If Dad already has good pruning shears, consider a pair of very good quality all purpose scissors for deadheading and clipping small stems. They have very large loops for handles, very sharp blades, and a strong screw holding the blades together that can be tightened when necessary. These run about $16. If Dad has these tools consider a tote to carry the tools. Belt totes are easy for Dad to wear and look like those of any workman.
5. Labels and a marker for plants. To identify the location of plants that disappear during the winter or to label each plant with its name and other information, labels of some sort are needed. They come in variety of materials such as plastic, metal, wood, stone, or terracotta and a variety of styles from very simple to quite fancy. Also consider buying some plastic ones for short-term use and fancier more expensive ones for long term use. The key thing to remember is to buy a marker for the labels that will be permanent. This is not as easy to do as you might think. Wax pencils and household markers fade in the sun after a year or two so buy a marker that is specifically for garden or outdoor use.

6. Welcoming sign for the garden. Every gardener likes to share his/her garden with friends and a personalized welcoming sign is just the way to start the visit. There are many signs available in a variety of styles and motifs and if you want to up scale there are artists who will make whatever will please that special dad. If the welcoming sign does not appeal to you, how about a personalized doormat for Dad to wipe his feet on when he comes out of the garden into the house. Mom will be grateful and love it too.
7. A special plant that has significance for Dad. My dad always wanted a Franklinia tree; my husband thinks horseradish is special and talks about gardenias several times a year. With the internet and online shopping it is easy to find rare and unusual plants. Try Plant Delights in Raleigh, North Caroline (www.plantdelights.com). It isn't cheap but sure has unusual plants.
8. A book on Dad's favorite plant or garden interest. There are books galore on gardening these days and you can browse the library or bookstore shelves to find a good one on a plant, group of plants, or garden feature that is dear to Dad's heart. Order the book from Amazon and you will probably save a bundle even considering the $4 shipping and handling charge. Dad's not a book person? Try a magazine subscription. I recommend Horticulture, Fine Gardening, or Garden Gate. The last one has no ads and contains information that any gardener can use. The other two magazines are more regional in coverage each issue. Alternatively, find a regional magazine like Carolina Gardener that will cater to Dad's needs.
9. Birdhouse or feeder. Most gardeners enjoy birds with their garden so buying a feeder or house is a good way to attract them. They can be very simple (and cheap) or very elaborate (and expensive) but there is one to fit every fantasy. How does a French Villa or Cape Cod seaside birdhouse grab you? No? OK (and this one will really do it) a replica of Dad's house! So, he would not put it in the garden? My favorite, a thatched English house and feeder, sits on top of an antique hutch in my family room. What's wrong with that? I enjoy it everyday, any season. But maybe your dad is just not a birdhouse kind of guy. How about a toad house? Or a bat house? Both can be bought at moderate prices online in a variety of styles.
10. Vegetable of the Month Club. This one seems so out of the ordinary to me I just had to include it. The Organic Vegetable Club sends 10-15 pounds of 6-12 different vegetables for about $60. Potato Sampler of the Month Club sends 8 pounds total of three different kinds of potatoes for about $40. I have never had these but think maybe I should.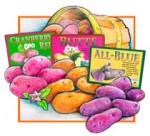 Hopefully something in this list will resonate with you even if only to spark your imagination of something to do for Father's Day that will really be special.   All of them will last a while and can be enjoyed over a period of time.  As a parent I can honestly say that knowing my kids care enough to do something is my pleasure. So, get out there and do something!