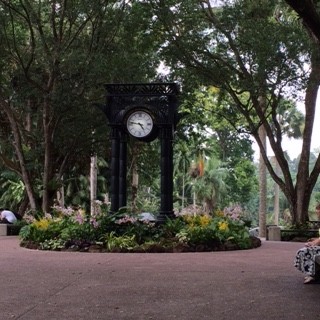 The garden was established in 1859 by the Agri-Horticultural Society when the Society focused on research useful plants, especially rubber. The design by Lawrence Niven reflects the English landscape gardens of the 18th century. Although the focus of the research has changed, the garden is very important in the greening and transformation of Singapore into a garden city and is a leading institution of tropical botany and horticulture. It is considered a top garden world-wide attracting over four million visitors a year. For a spectacular out door experience spend at least a day browsing the many different theme gardens and strolling through the grassy landscape. You will not see it all in a day and will want to return. The garden can be reached by MRT, bus, or taxi. Open daily 5am-midnight (some areas have shorter hours) and it is free!
A pamphlet with map of the garden can be picked up as soon as you enter put are also maps posted on large boards inside the garden.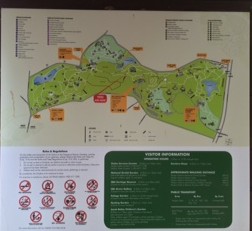 A quick perusal of the map shows that there are many theme gardens including a children's garden, Fragrant Garden, Evolution Garden, Healing Garden, and Ginger Garden, as well as other areas of interest such as Swan Lake, a rain forest, a dell, an orchid house, and a symphony stage for outdoor concerts. Wildlife, sculpture, and water features add to the ambiance.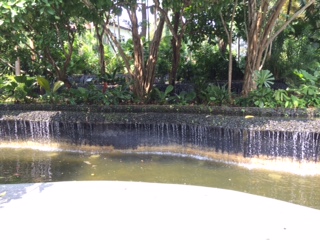 To get an idea of what Singapore looked like before it was cleared to make way for this fantastic city take a walk in the virgin rainforest. Located on 150 acres, the rainforest contains over three hundred different plant species. The vegetation is multi layered with some of the trees being over one hundred and twenty feet tall.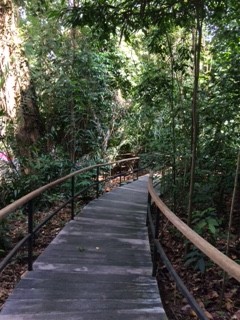 Many of the trees have buttresses helping to support them.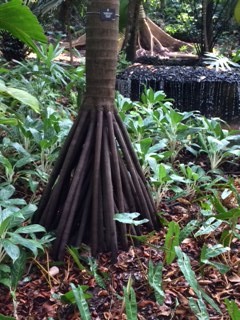 Where some sunlight sneaks through for a short time each day, flowers appear.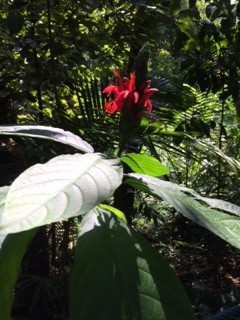 Beautiful birds fly trough the foliage, occasionally landing to eat and sing.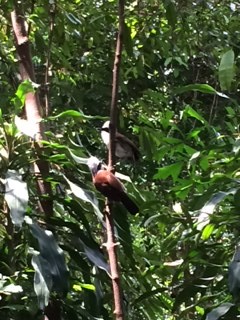 The Dell has some hidden treasures like Monophyllaea horsfieldii an unusual and rare gesneriad that produces just one leaf . The leaf directly produces the flowers and then dies down. The plant only grows only on limestone where it reproduces by seed.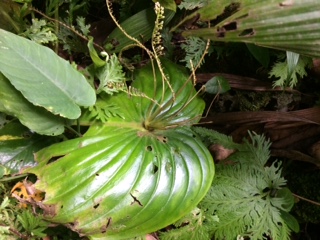 The Ginger Garden features several hundred species of ginger and other plants from related families.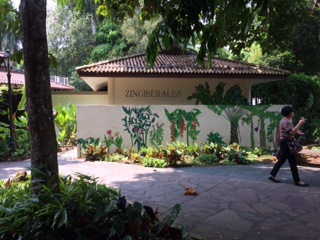 One of the most beautiful gingers have leaves that grow in a spiral.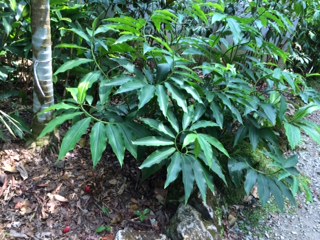 Banana plants, relatives of ginger, are also included. This one, known as the Scarlet banana (Musa coccinea), grows nine feet tall and has bright red berries with green tips. It is from Indochina and China, and was introduced into cultivation in the 18th century.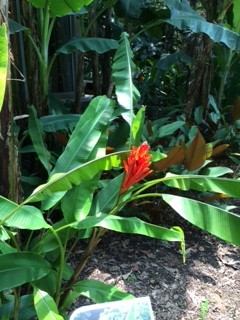 Another plant related to ginger is Calathea lanata.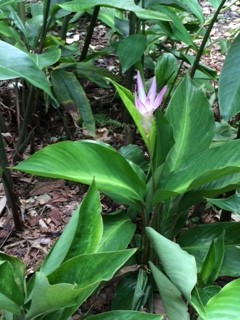 Many heloconias are also included.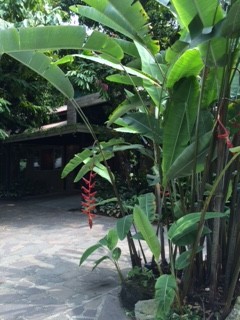 A lizard basks in the sun of the Ginger Garden.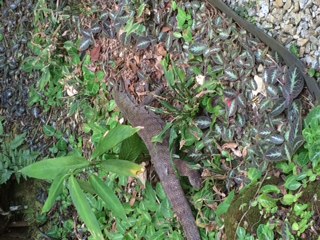 The restaurant in the Ginger Garden, Halia, offers some delicious ginger inspired dinner dishes. The restaurant's name, Halia, means ginger.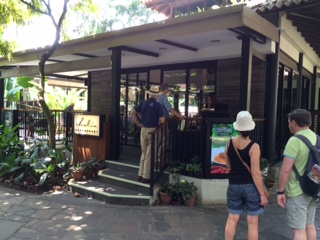 The Evolution Garden traces the evolution of the plant kingdom from prehistoric times and includes ferns, club mosses, as well as stone 'petrified' fossil trees.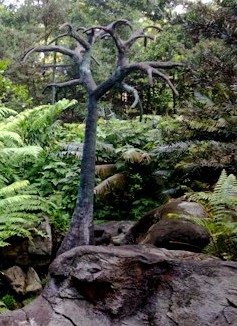 The Healing Garden features over four hundred varieties of medicinal plants laid out thematically by body parts i.e. head, respiratory system.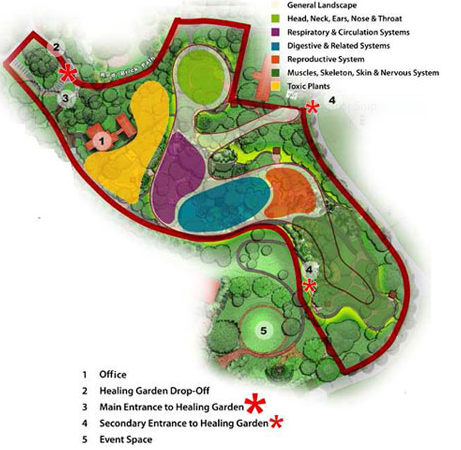 The theme of the Jacob Ballas Children's Garden is "All Life On Earth Depends on Plants." and it encourages children (under 12 years of age) to learn through play and exploration with the goal of instilling in children an appreciation of plants, nature and the environment.
The Orchid Garden ($5 entrance fee), features over 5000 species and 2000 hybrids resulting from the Garden's breeding program starting in 1928.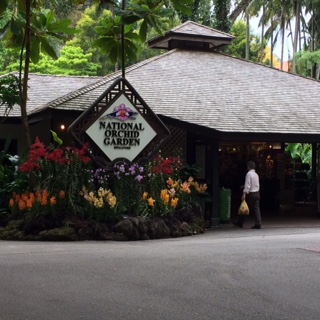 Orchids are not just confined to the Orchid Garden. A stand of Vanda 'Miss Joaquim' discovered by Agnes Joaquim in her garden in 1893 is Singapore's national flowers, chosen because of its hardiness and resilience.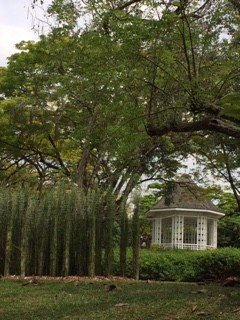 Heliconias form the edging of a long walk in the garden.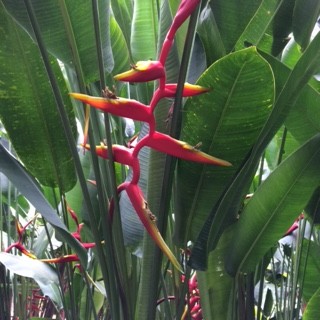 From the Heliconia Walk you can look down on the Symphony Stage surrounded by hillsides where the audience sits to listen to free monthly concerts.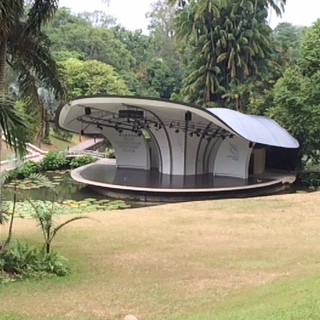 Covered with huge clusters of orange flowers this Saraca cauliflora tree makes an impressive sight.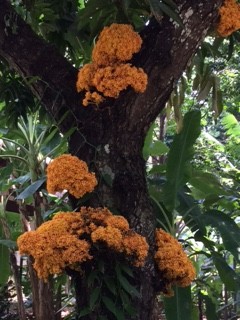 Curtain ivy ( Cissus verticillata), aka princess vine, is not a true ivy but rather a relative of the common grape. A native of the tropical Americas it produces long aerial roots that form an unusual curtain effect.
Sealing wax palm (Cyrtostachys renda) stands tall with bright red stems.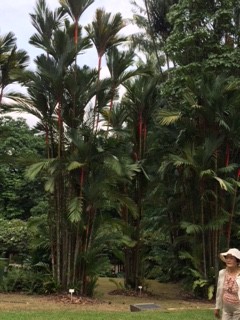 This tembusa tree (Cyrtophyllum fragrans (aka Fagraea fragrans) is reportedly over 150 years old and is 90' tall and over 25' in girth. It is evergreen with very durable wood and deeply fissured bark. The creamy-white flowers are fragrant and appear in both spring and fall.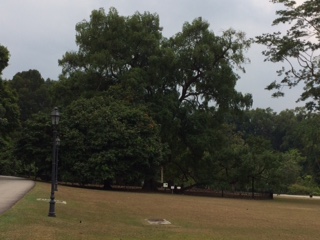 This heritage tembusa tress is depicted on the Singapore $5 note.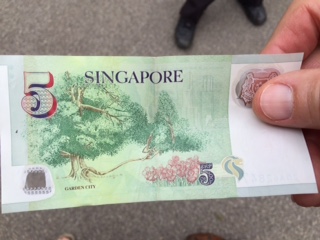 Built in 1866, the Swan Lake provides for many aquatic plants and fish as well as a pair of mute swans (Cygnus olor) from Amsterdam, the Netherlands. A statue depicting swans in flight complement the pair.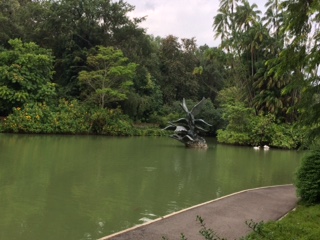 Rock formations support ferns and a rush of sparkling water.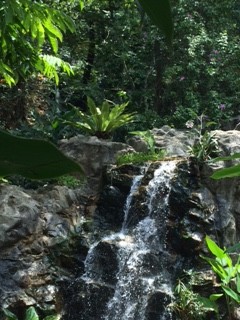 The giant Victoria water lilies thrive in calm waters nearby.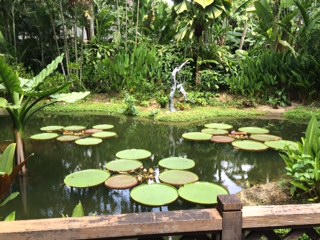 Full of unique and beautiful plants Singapore's Botanical Garden is a wonder. It was described by Time Magazine as "Asia's Best Urban Jungle" but that does not do it justice because it is so much more. It proves the adage that "the best things in life are free."