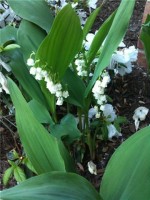 As spring moves into summer more and more perennials begin to bloom and can take over the job of providing color in the garden. As the bulbs begin to fade the foliage of the perennials will begin to hide the remains of the bulbs and their flowers will begin to open adding color and sometimes fragrance to the atmosphere. Late spring and early summer are good times to enjoy the lingering scent sitting on a bench in the garden.
Here are five favorite cottage garden plants for late spring and early summer. Several are fragrant, all are beautiful and have interesting as well as beautiful flowers. They are easy to grow and propagate.
Solomon's Seal (Polygonatum odoratum)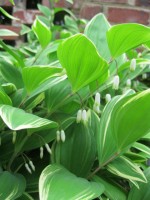 A native of woodlands, Solomon's seal grows well in moist, shady areas and even tolerates heavy shade. They add a subtle beauty to the garden with their tall graceful unbranched stems bearing lance like leaves above nodding fragrant white flowers trimmed with green. After the flowers fade the foliage remains attractive all season and turn an appealing brownish yellow in fall. A single plant may form a large clump by its second season but it is not invasive. It provides good material for cutting in or out of flower.
Flower Color: White bells with green edge
Plant Size: 18-24" H x 2' W
Light: Part shade-shade
Hardiness: Zones 3-9
Common Columbine/Granny's Bonnet (Aquilegia vulgaris)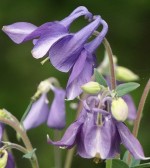 There are many different kinds of columbine and this one may not be the one you know but it is a fine plant and was a favorite of cottage gardeners. Even the common name 'granny's bonnet', referring to the form of the flowers, suggests its use in a cottage garden. The unique flowers have petals that end in short spurs with tiny knobs on the end and are carried above a mound of fern like foliage. Granny's bonnet is easy to grow in average, moist well drained soil in some shade and will readily reseed.
Flower Color: Blue, violet
Plant Size: 1-2' H x 1" W
Light: Sun to part shade
Hardiness: Zones 3-8
Lily of the Valley (Convallaria majalis)


What would May first be like without lilies of the valley? The French would certainly be disappointed as they give bouquets of this special flower to loved ones on that day. A favorite of brides, the nodding flowers have beauty, fragrance and charm that endeared them to the cottage gardeners of the past as well as the present. Plants thrive in semi-shade in moist soil but have a tendency to do what they want and show up where you least expect them, making themselves even more endearing.
Flower Color: White
Plant Size: 8-12" H x 12' W
Light: Semi-shade
Hardiness: Zones 2-7 (best in 2-5)
Peony (Paeonia lactiflora)


Peonies were introduced into Europe in 1784 from China and quickly became popular for their ease of cultivation, beauty, fragrance, and longevity. There are hundreds of cultivars available but some of the ones that were popular in the hay-day of cottage gardens are still available; Festiva Maxima (1851, white), Madame Ducel (1880, light pink), and 'Humel' (1851, dark pink). All of them are full flowered with many petals, fragrant, and will do well where winters are cold. 'Festiva Maxima' is recommended for my zone 7 garden but if you live further south you might consider some of the earlier blooming peonies that have fewer petals.
Flower Color: White, pink, red
Plant Size: 1.5-3.5' H x 2-3' W
Light: Full sun with some afternoon shade in South
Hardiness: Zones 2-10 (but not all cultivars do well in areas warmer than zone 6)
Lady's Mantle (Alchemilla mollis)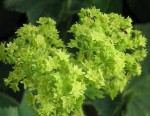 If you like chartreuse colored flowers give Lady's Mantle a try. Frothy sprays of starry flowers are borne abundantly above a soft velvety mound of blue-green foliage. The scalloped leaves are particularly appealing after a summer rain when the rain drops glisten on the surface of the leaves in a most picturesque fashion. Give it even moisture in well drained soil and some shade and you may find that it self-seeds. Lady's mantle is an excellent ground cover and the flower sprays are good for cutting and drying.
Flower Color: Lime green
Plant Size: 12-18" H x 24" W
Light: Partial shade
Hardiness: Zones 4-7
All of these plants except the columbine, are easy to find in nurseries and catalogs. The columbine might be harder to find because so many hybrids have been developed with bigger and showier flowers that the species has lost popularity. The "bigger is better' concept has been with us for quite a while now but there are signs that people are renewing their interest in less flamboyant flowers and this may signal a effort by nurseries to carry some of the older, simplier, but still very beautiful and worthwhile varieties.