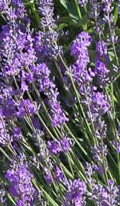 Lavender belongs to the genus Lavendula that belongs to the mint family Lamiaceae and has thirty nine species. It is native to the Old World including the Canary Islands, southern Europe, and the Mediterranean. Shakespeare's lavender was probably a shrub like species with blue to violet or lilac flowers carried in whorls on spikes above grayish foliage in summer. Lavender likes full sun, and lean, dry, well-drained, alkaline soil. The hardiness of lavender depends on the species and is very diverse.
In The Winter's Tale (act iv, sc. 4, 103), the princess, Perdita. living as a shepherdess, says to Polyxenes, the disguised father of the man to whom she is about to be betrothed, as she plays hostess at a sheep-shearing;
Here's flowers for you;
Hot lavender, mints, savoury, marjoram;
Lavender goes back to ancient times. It is mentioned in the Bible, known to the Greeks as narda, and was prized by the Romans for its scent. The genus name Lavendula may come from the Latin word lavare meaning to wash. The ancient people probably knew Lavendula stoechas, also known as French lavender, Spanish lavender, or tufted lavender. It is a Mediterranean species and hardy in USDA zones 8-11.
In sixteenth century England, the herbalist Gerard mentions two lavenders which may have been Lavendula latifolia (syn. L. spica) and Lavendula angustifolia (common lavender L. angustifolia is hardy in USDA zones 5-8, L. latifolia in USDA zones 6-9. Neither were common in England in Shakespeare's time but he may have known about one or both.