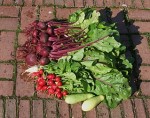 As you begin to plan your vegetable garden consider the importance of crop rotation; that is, the growing of related plants in different areas of the garden in a cyclical pattern over a 3-4 year period. Because most backyard farmers have space limitations they tend put the tomatoes, peppers, and eggplant in the same area of the garden year after year but this is not a good idea. These plants are all members of the same plant family and tend to use the same soil nutrients as well as succumb to the same pests and diseases. There results are declining soil fertility and increased infestation of pests and disease all adding up to lower yields.
Tomatoes, peppers, potatoes and eggplant are only one example of vegetables in the same plant family. Here is a list of vegetables commonly grown in the home garden and the families to which they belong.
Nightshade Family:
Eggplant
Pepper
Potato
Tomato
Gourd Family:
Gourd
Melon
Pumpkin
Squash
Beans (Legumes) Family:
Lima beans
Peas
Snap/string beans
Wax beans
Carrot Family:
Carrots
Parsnips
Parsley
Celery
Cole Family:
Broccoli
Brussels Sprouts
Cabbage
Cauliflower
Horseradish
Kale
Kohlrabi
Mustard Greens
Radish
Rutabaga
Turnip
Onion Family:
Chives
Garlic
Leek
Onion
Shalots
Goosefoot Family:
Beets
Sinach
Swiss chard
Sunflower Family:
Endive
Lettuce
Corn, sweet potatoes, and okra are in a family with few other vegetables you are likely to grow, so you can consider them singletons and put them with another group.
When planning the garden with crop rotation in mind, organize the vegetables you plan to grow according to families. Divide your garden into 4-5 areas and then distribute the plant families into the various areas taking into consideration size and number of plants as well as environmental conditions such as light and moisture. Make a rough map of your garden filling in the names of the plants with their family name. Next year change the location of each plant family. Continue to change to the location each year so that no plant family occupies the same area more than once in 3-4 years.
Ideally, one bed would lie fallow each year while compost or a cover crop was planted on it.
Here is an example:
First Year
Bed 1
Bed 2
Bed 3
Bed 4
Nightshade Family


Tomato


Peppers
Eggplant
Gourd Family
Melon
Squash
Cucumbers
Pea Family
Beans
Lima
Snap
Corn or lie fallow and plant corn in Bed 3
Second Year
Bed 1
Bed 2
Bed 3
Bed 4
Corn or lie fallow
Nightshade Family
Tomato
Peppers
Eggplant
Gourd Family


Melon
Squash
Cucumber
Pea Family
Beans
Lima
Snap
Third Year
Bed 1
Bed 2
Bed 3
Bed 4
Pea Family
Beans
Lima
Snap
Corn or lie fallow
Nightshade Family
Tomato
Pepper
Eggplant
Gourd Family
Melon
Squash
Cucumber
Fourth Year
Bed 1
Bed 2
Bed 3
Bed 4
Gourd Family
Melon
Squash
Cucumber
Pea Family
Beans
Lima
Snap
Corn or lie fallow
Nightshade Family
Tomato
Pepper
Eggplant
This plan is not rigid and can be varied to suit your taste.  For example, you find that your family dislikes lima beans but likes English peas. Just put the English peas in the Pea Family bed. O.K., your family doesn't like eggplant but likes lima beans and wax beans; shrink the size of the Nightshade family bed and enlarge the size of the bean bed. You can also add a member of the Kole family or Onion family etc. to any bed in which you have room and include them in the rotation. Just remember to keep vegetables in the same family together as you rotate them in the beds.  Growing tomatoes in the area where you had pepers last year is NOT rotation because they are in the same family.
You might also want to consider the nutrient demands of your vegetables. Some crops like corn, cauliflower, greens, tomatoes, cabbage and squash are heavy feeders; that is they will use up a lot of the nutrients in the soil. Others, like potatoes and some other root crops are light feeders. Still other crops, namely those in the pea family, are soil builders and add nutrients to the soil. Try to plant light feeders after heavy feeders, followed by some soil builders.
Also, remember that your some of your cool weather crops such as radishes, beets, and carrots might be finished and out of the garden by the time you want to plant your warm weather crops such as tomatoes, squash, and beans. This would allow you to grow two crops in one area each year.