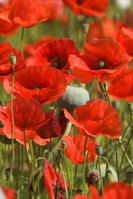 Corn poppies (Papaver rhoeas) and opium poppies (Papaver somniferum) are spring blooming annuals with large flowers of papery petals. Corn poppies have many common names including Flanders poppy and has bright red and green hairy foliage. Shirley poppy is an ornamental variety. Opium poppies have white, mauve, or red flowers and gray-green foliage. There are many varieties and cultivars of opium poppies including double forms which resemble the flowers of peonies. Iceland poppy (Papaver nudicaule), is a short lived-perennial that can not survive the heat of many US summers and so is grown as a biennial with fall planting. It has white, pink, yellow, orange, red, or bicolor flowers produced on leafless stems arising from a basal rosette of gray-green leaves. Poppies are insect pollinated and crosses between varieties/cultivars may occur.
Poppies do not transplant well and are best sown directly in the garden in early spring, about the time of the last frost, or in late fall, for Icelandic poppy. If you want to start seed indoors, use peat pots and begin six to eight weeks before the last frost. The seeds are very fine so mixing with sand facilitates sowing.
Directions
1. Sow seed on the surface of the soil pressing lightly. Seeds need light for germination.
2. Place in an area that is between 60 and 70 F and keep moist but not wet. Germination should be in seven to fourteen days under optimal conditions.
3. Harden off and place peat pots containing seedlings in garden after last frost, spacing small varieties six to eight inches apart and large varieties eight to to twelve inches apart.
To buy poppy seeds from Amazon.com click here.