There are numerous sources for plants but my all time favorite is the local Farmer's Market. As soon as the weather warms up my husband and I begin our ritual of going to the local Farmer's market early every Saturday morning. On occasion, we may go Sunday too, but the vendors are there in full force on Saturdays.
The one thing you can count on about the Farmer's Market is that it will be an adventure. The vendors have good quality plants (as well as many other things) and I have never been disappointed with anything I have bought there (and I buy a lot.) There is a large variety of plants once the season gets rolling and we have found some treasures in addition to the usual plants you can buy anywhere. One Saturday last year we found a weeping winged elm (Ulmus alata) and a paperbark maple (Acer griseum), both featuring unusual bark, and they now stand proudly in our bosco. This year we expect to buy a Japanese cut leaf maple from the same vendor; we just can't decide which one because he has so many beautiful ones.
The vendors of annuals, perennials and vegetables are the same way. We can buy all the same old pansies, geraniums, impatiens and marigolds, but we can also find such annuals as Gomphrena 'Strawberryfields', Browallia, and Salvia 'Victoria', all in six packs or larger if you want. Hanging baskets and planters for sun or shade, in many colors combinations and sizes abound. A large selection of perennials are available such as Platycodon, Pervoskia, and miniature Monarda. Vegetables come in 4 packs or larger sizes to meet the needs or desires of every gardener. We can buy a very large selection of tomatoes including many heirloom varieties, both hot and sweet peppers, 3 kinds of eggplant, summer squash (but no winter squash!), 5 different cucumbers, 3 kinds of cantaloupe, watermelon, many different lettuces and some cold weather crops.
  Several vendors sell herbs, so many different herbs that no single person could grow them all. Another vendor specializes in grasses; still another specializes in bog gardens. Last year we bought Venus Fly Traps, Pitcher Plants, Sundews, and a bog orchid from him, complete with directions to make a bog garden. He also had detailed planting instruction that we were careful to follow and we are happy to see that all the plants are coming back as expected. The point is, the vendors at farmer's markets are eager to please and will help you as other sellers of plants can't or won't.
By June the number of plant vendors declines and those selling vegetables, fruit and other produce increase. By fall there are a very large selection of fresh vegetables including a fantastic array of pumpkins and gourds. Wow, what great pumpkins we bought last year!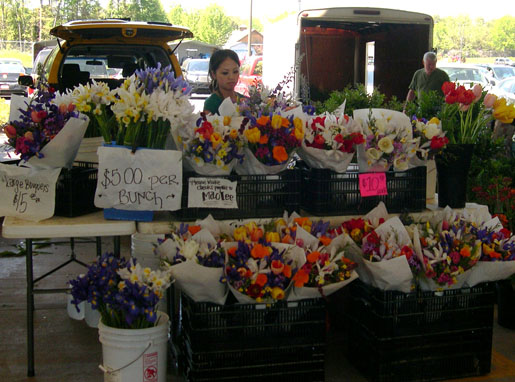 Through out the spring, summer and fall you can find fresh flower vendors who make up fabulous bouquets for $10-$20, ostrich steaks, homespun wool, the best goat cheese you have ever tasted, bird houses, and…..you get the point, the sky is the limit.
I have gone to Farmers' Markets in various parts of the country and each is different in regard to their offerings, prices, and ambience; but they all share one thing, the opportunity for adventure. They never disappoint so find one near you and give it a visit. You'll have a fun time.