J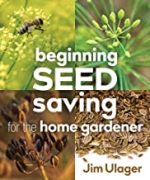 im Ulager's book, Beginning Seed Saving for the Home Gardener, presents the author's experience with seed saving and provides gardeners with the basic information to do the same.  He presents a good case for the value of seed saving and then introduces the essential concepts such as sexual and vegetative reproduction of plants, outbreeding and inbreeding, and open pollination and hybrids, with just enough detail  to help the readers but not overwhelm them. The real heart of the book are the parts on individual groups of plants: the easy plants to use for seed saving like beans, lettuce and tomatoes; the more challenging ones like squash, spinach, and kale, and the most difficult like corn, carrots, and broccoli.  Ulager outlines the problems unique to each group and then describes ways to surmount them.  A final section of the book gives general instructions for processing the seeds such as curing, threshing, and storing the saved seed.
Ulager makes seed saving seem very desirable and doable.  His easy conversational style makes him more of a friend sharing his experiences rather than an author lecturing to readers and his down to earth attitude de-mystifies the whole topic.  Every few pages an insert called Keeping It Simple, summarizes what has been said so you can easily look over the content to find the most relevant portions.  Black and white photographs are sprinkled through the book to illustrate various points, and eight pages of color photographs in the center of the book bring the process of seed saving to life.
To buy Beginning Seed Saving for the Home Gardener from Amazon click here.