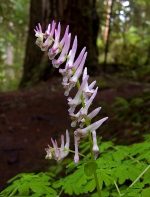 Scouler's corydalis is a herbaceous perennial and a member of the fumatory family, Fumariaceae, that also includes bleeding heart and Dutchman's breeches.  It is native to western North America where it forms colonies in moist woodlands, and along shaded streambanks and  shaded moist roadsides.  Plants grow 20-50″ tall and have hallow stems usually bearing three large bluish leaves that are finely divided into oblong leaflets.  In late spring, 15-35 pink, rose, or bicolored flowers appear in a long narrow spike. Each flower  is about 1′ long and has long somewhat curved spurs that point upward and outward.  A good choice for a woodland or shade garden.  The genus name, Corydalis, is the Greek word for lark and refers to the resemblance of the plant's spurs to the spurs of the lark.  The specific epithet, scouleri, honors John Scouler, a 19th century Scotch professor at the Royal Dublin Society.
Type: Herbaceous perennial
Bloom: Pink, rose, or bicolored flowers  1″ long with spurs, in long narrow spike, in spring.
Size: 20-50″ H x 3′ W
Light: Part shade
Soil: Organically rich, moist to wet
Hardiness: Zones 6-7
Care: Low maintenance
Pests and Diseases: Downy mildew, rust, aphids, slugs, snails
Propagation: Seed, division in fall
Companion Plants: Ferns, stream violet (Viola glabella), fringe cup (Tellima grandiflora)
Photo Credit: Wikimedia Commons