F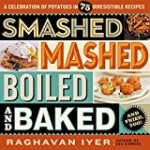 rench fries, baked potatoes, and mashed potatoes are familiar meal time fare but have you thought about trying some totally new potato dish? You might consider one of the unique recipes in Raghavan Iver's book, Smashed, Mashed, Boiled, and Baked—Fried, Too. Originally from India, Iver brings his knowledge and experience with international cooking to present a diverse collection of recipes from around the world for potato dishes that will tickle the palette and introduce new taste treats.
The recipes are divided into five groups on the basis of their use in the meal: appetizers, soups and salads, entrees, small plates and sides, and sweets and desserts. Each recipe begins with an introduction including background, history, and reasons why the recipe is especially appealing. A list of ingredients with step by step directions follow, and an inset called Tater Tips concludes the entry. The Tater Tips are perhaps the most helpful feature of the entry because they provide suggestions for making accompaniments, cooking ahead, finding the ingredients, and storing leftovers. Recipes for sauces to enhance the dishes are also included. A chapter on different kinds of potatoes and lists of special menus round out the work.
The assortment of recipes is intriguing and enticing. How about Danish aebleskivers, Chinese water chestnut potstickers, or French gougeres? Perhaps Ecuadorian llapingacho, Persian eggs and potatoes, or Polish pierogies suits your fancy. Or if you want something more familiar try Mexican potato flautas, Indian potato cakes, or Australian potato gratin with vanilla carmelized onions. Maybe potato salad is you thing so try versions from Russian with radishes, Morocco with harissa, or Nepal with yogurt, fenugreek and mustard oil? Better yet, have a potato party and farm out the recipes to all the guest for a potluck dinner so you can try them all. There will be something that tempts and pleases everyone.
The text is lively and informative and the directions are clearly written. Although most of the ingredients are readily available some of the potato varieties might be difficult to find, although substitutes could be used. A significant number of recipes include hot peppers or other hot spices, but these can be tamed down if desired. Although many mouth watering photos are included, I would like a photograph of each finished product since most are unfamiliar to me and a picture would give me confidence especially the first time preparing the dish. The book is a great adventure into cooking with potatoes and a valuable addition to the cookbook shelf.
To buy Smashed, Mashed, Boiled, and Baked—and Fried, Too! from Amazon.com Click Here.