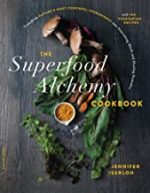 Chef, author, and health coach, Jennifer Iserloh, offers her holistic, plant-based approach to good health in her cookbook, The Superfood Alchemy Cookbook.  The book is divided into 7 chapter, each focusing on one of the 7 operations that are part of the alchemical transformation process: Calcination, Solution, Separation, Conjunction, Fermentation, Distillation, and Solidification.  Each of these operations focuses on one of the energy centers of the body so a person can jump into any chapter depending on the part of the body that needs help the most.  Each chapter begins with an explanation of the focus operation  and an annotated list of the superfoods, herbs and essential oils that are most valuable for that operation.  The recipes that follow use these ingredient in plant based dishes that can be easily modified to provide a vegan diet.  Each chapter ends with suggestions  to nourish the spirit as well as the body and include recipes for items like foot scrub, massage oil, and mood enhancer, as well as recommendations for meditation and ritual.
The food recipes are varied and unique; some of the most intriguing include Beet Spaghetti, Avocado Fried Rice, and Chai Coffee.  Each recipe is introduced with information on such topics history, nutritional information, and serving suggestions and you can learn that  The ingredients are listed on one side of the page, the directions on the other and many recipes have a picture of the finished dish.  Most of the ingredients can be found at large upscale grocery stores but a few like goji berry, tulsi tea, and rhodiola root may be harder to find.  The Superfood Alchemy Cookbook provides a new look at healthy living and the way  food works in your body to make it whole and sound.
The buy The Superfood Alchemy Cookbook from Amazon.com click here.