The genus Heuchera is in the saxifrage family, Saxifragaceae, that also includes foamflower (tiarella), pigsqueak, and false spirea (Astilbe).  It consists of over fifty species of herbaceous perennials that are native to North America but only a few are cultivated in gardens.  Heucheras are long lived and some are grown for their ornamental foliage  while other are grown for their attractive flowers.  All are evergreen except in very cold climates.  Growing from stout woody crowns with fibrous roots, plants have rounded to kidney shaped basal leaves are carried on long petioles to form a mound.  They may be lobed and toothed, zoned or mottled, and usually hairy.  The bell-shaped flowers are carried on wiry stems in racemes or panicles well above the foliage and range in color from white to pink and red. Petals may be small or absent but the sepals provide blooms. Heucheras like full sun or partial shade and need shade where summers are hot.  Soil should be organically rich and very well-drained.  Propagation is by seed or division.  Deadheading prolongs bloom time, winter mulching in cold climates reduces heaving, and division every 3-5 years rejuvenates plants.  The genus name Heuchera honors Johann Heinrich von Heucher (1677-1747) who was a botanist, physician, and medicinal plant expert at Wittenberg University, Germany.
The following Heucheras are recommended for the garden:
American Alumroot (H. americana)
Also called rock geranium, this open, mounding plant is native to the eastern half of the country from Maine south to Georgia and west from Nebraska to Louisiana where it grows in rocky well-drained soil in woodlands as well as open sites.   The heart-shaped leaves are mottled silvery green and  may turn red or purplish in fall. The flowers are 1/8-1/4″ and not showy.
Primary Feature: Foliage
Height: 18-36″
Hardiness: Zones 4-9
Hybrid Coralbells  (x brizoides)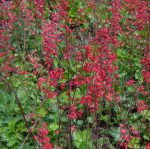 Hybrid coral bells are the result of crosses between Heuchera micrantha, H. sanguinea, and H. americana and vary primarily in size, flower color and heat-tolerance.  The increased heat tolerance of the hybrids has been especially appreciated by gardeners in the Southeast where heat and humidity have made growing heucheras difficult.  Many hybrids are available . Plants have scalloped leaves 4-8″ long and tiny flowers that range in color from red, to pink and occasionally white.
Primary Feature: Heat tolerance
Height: 12-30″
Hardiness Zones:  3-10
Poker Alumroot (H. cylindrica)
Also called roundleaf alum, this heuchera is native to northwestern North America from British Columbia and Alberta to northern California and northern Nevada,  east to Wyoming and Montana where it grows in rocky areas on cliff-sides and slopes, and  in woods and sub-alpine meadows.  Cultivar "Greenfinch has greenish yellow flowers, prized for flower arranging.
Primary Feature: Flowers
Height: 2-3′
Hardiness Zones :3-8
Photo Credit: Wikimedia
Island Alumroot (H. maxima)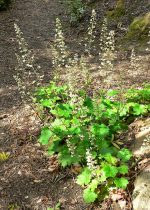 Also called Channel Islands coral bells, and Jill of the rocks,  island heuchera is endemic to the four northern Channel Islands of California where it grows on canyon cliffs in coastal sage scrub areas. The dark green leaves  are marbled and may have a reddish tinge in winter.  The flowers are pinkish with prominent stamens and  are carried on 3′ long stems.
Primary Feature: Flowers
Height: 1.5-3″
Hardiness: 9-10
Photo Credit: Stan Shebs Wikimedia Commons
Crevice Alumroot (H. micrantha)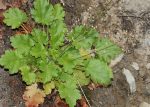 Native to  the rocky slopes and cliffs of western North America from British Columbia to central California  this crevice alumroot has gray-green or purple green leaves and greenish white flowers.  The most popular selection is 'Palace Purple'.  The flowers are very small hence an alternate common name for the plant is small-flowered alumroot.
Primary Feature: Foliage
Height:1-2′
Hardiness: Zones 4-8
Photo Credits: Wikimedia Commons
Coralbells (H. sanguinea)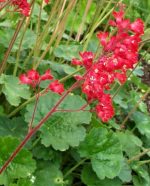 Coral bells is the only heuchera species with red flowers and is one of the parents of most hybrids in present day gardens.  Flowers are up to 1/2″ long and persist for 4-8 weeks making it a very desirable garden plant.  Native to  the cliffs,hills and alpine areas of Arizona and New Mexico.
Primary Feature:Flowers
Height: 12-18″
Hardiness: Zones 3-8
Hairy Alumroot (H. villosa)
Hairy alumroot is native to the Southeast from Virginia to Georgia west to Arkansas and Missouri where it grows on rocky outcrops in open woods as well as on cliffs and crevices.  It has hairy leaves that are sometimes tinted with bronze, red, or purple and cream colored flowers.  It blooms later in the season than other heuchers and is more tolerant of heat and humidity.
Primary Features: Tolerance of heat and humidity; late bloom season
Height:1-3′
Hardiness: Zones 6-9
4