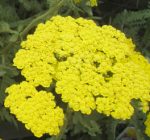 Fern leaf yarrow is a herbaceous perennial native to the Causcasus, Afghanistan, and central Asia. It is a member of the aster family, Asteraceae, that also includes daisies, sunflower, and lettuce. Growing 3-4′ tall plants form attractive mounds of basal foliage with deeply divided  pinnate leaves that are fern-like, hairy, aromatic and up to 10″ long. The  flowerheads consist of tiny yellow ray surrounding a center of tiny yellow disc flowers. and appear in dense flattened compound corymbs up to 5″ across on stiff, erect stems in summer. Flowerheads are good in both fresh and dried arrangements. The genus name, Achilles, honors the hero of the Trojan Wars in Greek mythology who is said to have used the plant medicinally to stop bleeding and heal the woulds of his soldiers. The epithet, filipendula, is the diminutive of the Latin words filum meaning thread, and pendulus, meaning hanging, and refers to the leaves.

Type: Herbaceous perennial.
Bloom: Golden-yellow flowerhead up to 5″ across in late spring/early summer.
Size: 3-4′ H x 2-3′ W
Light: Full sun; shade will produce lanky plants.
Soil: Average to poor,  dry to medium moist,well drained.
Hardiness: Zones 3-9.
Care: Deadhead to prolong the bloom time. Cut back after blooming and foliage will regrow into an attractive mound.
Pests and Diseases: Systemic fungicide or baking soda in horticultural oil can help prevent mildew.
Propagation: Division or root cutting from around the base in spring. If you divide the plants in the fall do so early enough so the plants can get established before winter.
Companion plants: White shasta daisy like Leucanthemum 'Becky' , red and orange red-hot poker (Kniphofia uvaria), blue sage like 'East Friesland', and ornamental grasses. The gray-green fine textured foliage is a nice contrast to dark green leaves and large bold ones.
Outstanding Selections:
'Gold Plate' (deep yellow flowers)
'Parker's Variety' (Golden yellow flowers; 3-4′ strong stems; floriferous)
x 'Cornation Gold' (yellow flowered hybrid with A. clypeolata; well branched with strong stem, 2-3′ tall, 3″ wide flower heads)
Comments: Deer tolerant; good in fresh and dried arrangements