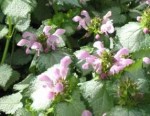 'Pink Chablis' spotted deadnettle makes a pleasant ground cover for a shady spot with its white variegated leaves and pink flowers. Its long blooming season from late spring to mid-summer makes it a stand out in a shade garden and it does not even require deadheading to keep it flowering. Give it evenly moist, well-drained soil in partial shade and the plants will thrive until heat and humidity roll in when they may "melt out". Warm nights may make 'Pink Chablis' leggy but it will return to its original compact form if cut back.
Type: Herbaceous perennial
Bloom: Small pink flowers are borne in clusters
Foliage: Leaves have white blotches along the midrib
Size: 8-12" H x 12-18" W
Light: Part to full shade; tolerates full sun in cool areas
Soil: Average, evenly moist, well-drained,
Hardiness: Zones 4-8
Care: Low maintenance; cut back when straggly to encourage new growth
Pests and Diseases: None serious but appealing to slugs and aphids and susceptible to root rot in wet conditions, leaf spot and leaf blight.
Propagation: Division or cuttings any time of year with adequate moisture.
Companion plants: Hosta, wild ginger, jack in the pulpit, lirope.