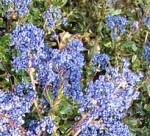 Blueblossom, also known as wild/California lilac, is an evergreen shrub endemic to southern Oregon to southern California where it grows in open woods and chaparral of coastal mountains. It is a member of the buckthorn family, Rhamnaceae, and not closely related the true lilac, Syringa. The shrub is dense and has small oval leaves are glossy and have three prominent veins on the underside. In spring to early summer the tiny blue to white flowers are carried in three inch long spike-like clusters that resemble the staff (thyrsus) of Bacchus, the Greek god of wine. The plants are as a specimen, or for hedges and screens, and may be pruned to resemble a small tree for a patio. Several cultivars are available that vary primarily in size and flower color. Many pollinators feed on the flowers including bees and butterflies, and the larvae of some moths and butterflies feed on the leaves. Several birds eat the fruit and deer, elk, and rabbits browse the foliage. The generic name Ceanothus comes from the Greek word keanothus meaning spiny plant. The specific epithet, thyrisiflorus comes from the Greek word thursos, referring to the staff of Bacchus, and the Latin word flos, floris, meaning flower.
Type: Evergreen flowering shrub
Outstanding Feature: Flowers
Form: Rounded
Growth Rate: Rapid
Bloom: Tiny blue to white flowers in three inch long spike-like clusters, from spring to early summer
Size: 4-30' H x 5-30′ W (depending on the cultivar)
Light: Full sun to part shade
Soil: Average, medium moist well-drained, alkaline; tolerates drought once established
Hardiness: Zones 8-10
Care: Prune to maintain shape.
Pests and Diseases: None of significance except browsers
Propagation: Seed, cuttings