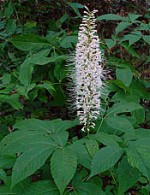 A native of woodlands in southeastern United States, bottlebrush buckeye is a wide, suckering deciduous shrub that needs plenty of room to grow. In summer, its palmately compound leaves are dark to medium green on top and grayish and downy beneath, and turn yellow-green to yellow in autumn. Masses of white flowers are borne in slender panicles in mid-summer and have long pink to red anthers that are particularly appealing and gave rise to the common name, bottlebrush buckeye. The smooth gray bark is attractive and adds interest to the winter garden. With a medium to coarse texture the plant is useful for massing underneath large trees, as a specimen, or in a large shrub borders where its size can be accommodated. It thrives in heat and humidity.
Type: Deciduous shrub
Outstanding Feature: Flowers; shade tolerance
Form: Rounded, spreading
Growth Rate: Slow to moderate
Bloom: Eight to twelve inch panicles of white flowers with red to pink anthers in mid summer
Size: 10' H x 15' W
Light: Sun to partial shade
Soil: Organic, moist, well-drained
Hardiness: Zones 5-8
Care: Rejuvenate when necessary by severe pruning in spring
Pests and Diseases: More disease resistant than other buckeyes; foliage retains its attractive appearance into fall.
Propagation: Seed (slow), root cuttings; softwood cuttings under mist
Outstanding Selection: 'Rogers' (18-24" long flower clusters, 20' tall, later bloom than species)