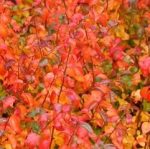 This flowering deciduous shrub is native to China, Taiwan and Korea where it grows on hillsides and stony, baren places in full sun.  It is a member of the rose family, Rosaceae that also includes cherry, almond, and lady's mantle.  Growing 4-9′ tall and  wide, the plant is open and leggy and has slender slightly zig-zag arching stems. The shiny elliptic to oblong leaves are 1-3″ long,  finely toothed, and blue-green  often turning  yellow orange and purplish bronze in the fall when grown in the sun.  A profusion of double, 1/3″ wide flowers appear in axillary umbellate clusters of 3-6 in spring before the leaves appear and are white with touches of green.  The flowers are attractive to butterflies and flowering stems can be used to form head wreaths.  The plants are a good choice for a border, hedge, or butterfly garden.  The genus name, Spirea, is from the Greek word speira meaning twisted, and refer to the use of the flowering stems to make wreaths.  The specific epithet, prunifolia comes from the Latin words Prunus, the genus name of cherry and plum, and folia meaning leaf and refers to the similarity of the leaves of bridalwreath to those of the plants in the genus, Prunus.  
Type: Flowering deciduous shrub
Outstanding Feature: Flowers, autumn colortion
Form: Fountain-like
Growth Rate: Rapid
Bloom: Umbellate clusters of white double flowers tinted with green in early spring before the leaes emerge
Size: 4-9′ H x 4-9'W
Light: Full sun; tolerates light shade but best color develops in full sun.
Soil: Average,medium moist, well-drained
Hardiness: Zones 5-8
Care: Prune immediately after flowering to maintain shape.
Pests and Diseases: Susceptible to fire blight,  leaf spot,  powdery mildew, root rot, aphids, leaf roller and scale.
Propagation: Seed, stem cuttings
Outstanding Selections: 'Plena' (double flowers) is the species and most available form