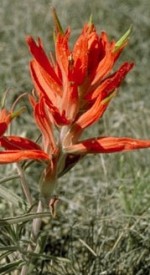 A native of dry plains and open mountain woodlands at medium elevations from Colorado to Arizona and Texas, broadleaf paintbrush is a colorful short-lived perennial that brightens the garden for many weeks in summer. The orange-red color is actually provided by bracts that surround the small inconspicuous flowers and attracts butterflies and hummingbirds. The plants are hemiparasites making them unusual as well as attractive. Their roots attach themselves to the roots of other plants by special structures called haustoria and thereby obtain water and possibly nutrients from their neighbor. Broadleaf paintbrush has low water requirements and is a good plant for xeriscaping. Paintbrushes in general are difficult to grow as they are hard to germinate from seed and do not transplant well. Broadleaf paintbrush is one of the least difficult to grow and a good one to start with.
Type: Herbaceous perennial
Bloom: Bright orange-red bracts surround small inconspicuous flowers borne in racemes that persist for many weeks in summer.
Foliage: Simple gray-green leaves are woolly.
Size: 16"H x 12"W
Light: Full sun
Soil: Average, well-drained
Hardiness: Zones 3-8
Care: Low maintenance
Pests and Diseases: None of significance
Propagation: Seed – sow in fall or stratify 1-2 months and sow in spring; germination difficult. Does not transplant well
Companion plants: Native grasses.