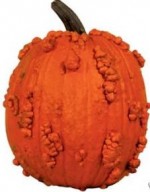 Whether you want to carve a Halloween jack-o'-lantern or just use this pumpkin untouched you will have a goulish monster to put out on your porch or doorstep. Covered with warty looking pumps, Knucklehead was bred as part of a series of Super Freak pumpkins that are meant to look creepy. Knucklehead is the largest of the series at 12inch high and weighing 12 to 16 pounds. His skin is a nice orange color like other pumpkins but his warts make him special. Grow him from seed or buy him at your local farmer's market or garden center.
Days to Harvest: 105
Planting Date: After frost when soil has warmed to 70-75 F or begin indoors in peat pots 2-3 weeks earlier.
Spacing: 5' x 8'
Germination: 7-10 days
Size: Pumpkins: 12" tall x 10 wide; 12-16 pounds
Light: Full sun
Water: Plant in hills with a moat around the hill to facilitate watering. Keep well-watered and do not allow soil to dry out completely but be careful not to water-log the soil. Water in the morning and avoid wetting the leaves to reduce the chance of mildew.
Soil: Fertile, moist, well-drained
Fertilizer: Pumpkins are heavy feeders. Apply well rotted manure at planting time and side dress with a balanced fertilizer every 3-4 weeks beginning when plants form vines.
Care: Harvest when skin is orange.
Pests and Diseases: Powdery mildew (keep plants free of weeds and trim to increase air circulation if necessary); water in the morning keeping the leaves dry.
Suitability for containers: Not suitable.