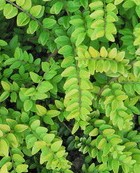 The name "honeysuckle" probably conjures up visions either of humming-bird magnets or invasive pests and this honeysuckle is neither. Edmee gold boxleaf honeysuckle is grown primarily for its beautiful chartreuse or gold foliage so its white flowers are very secondary. Purplish berries follow the flowers and are attractive to birds. The plant produces layers of branches that cascade onto the ground where they often take root and form an attractive mound that will brighten any shady spot in the garden. Once established, the plant is fairly drought tolerant and needs no maintenance unless you want to shape it. Use it as a ground cover or in a container.
Type: Semi-deciduous shrub
Outstanding Feature: Chartreuse/gold foliage
Form: Cascading
Growth Rate: Moderate
Bloom: Small creamy white flowers in spring followed by purple berries
Size: 24-36" H x 18-24" W
Light: Part shade to shade
Soil: Humus rich, moist, well-drained, slightly acid; some drought tolerance once established
Hardiness: Zones 6-9
Care: Low Maintenance
Pests and Diseases: None of significance
Propagation: Semi-hardwood cuttings spring through fall
Companion Plants: Hosta, hydrangea.