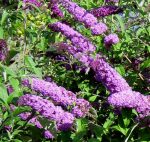 Also called summer lilac and orange eye, this deciduous flowering shrub is native to the mountains of central China and Japan where it grows in thickets and forest openings, and along stream banks. It is a member of the figwort family, Scrophulariaceae, that also includes mullein, twinspur, and Nemesia. Plants grow 6-8′ tall with an arching habit and have pale brown bark that becomes fissured with age. The gray-green lanceolate leaves are up to 12″ long and have hairy white undersides. The small mildly honey-scented flowers are densely packed in cone-shaped terminal and axillary panicles of new growth up to eighteen inches long from early summer to fall. They are purple with an orange eye and are very attractive to butterflies, moths, bees and humming birds. Deadheading encourages continuous bloom. There are many cultivars and hybrids that vary most significantly in plant size, including dwarf forms, and flower color so that flowers may be white, pink, red, magenta, yellow, or lavender-blue. Butterfly bush is a vigorous grower and may be cut down each spring to 12-20″. The vigorous growth, however, has led to its uncontrolled spread and it is considered a noxious weed in parts of the US. A good choice for a border if spread is controlled. The flowers are beautiful in summer arrangements but do not last long. Count on a day and hope for two days; the grace and texture of the spires more than compensate for their lack of longevity in the vase. The large dense seedheads are good for dried arrangements. The genus name, Buddleia, honors Reverend Adam Buddle (1660-1715), English botanist and vicar of Farmbridge in Essex. The specific epithet, davidii, honors Pere Armand David (1826-1900), French missionary and naturalist, who found the species growing in China along the border of China and Tibet.
Type: Deciduous flowering shrub
Outstanding Feature: Dense flowering with long bloom time
Form: Arching
Growth Rate: Rapid
Bloom: Cone-shaped terminal and axillary panicles of small purple flowers with orange eye from summer into fall; cultivars available with white, pink, red, magenta, yellow, or lavender-blue flowers.
Size: 6-8′ H x 3-5′ W
Light: Full sun
Soil:Average, medium moist, well-drained
Hardiness: Zones 5-9
Care: Cut back in late winter to early spring to 12-20″; deadhead to encourage continuous bloom
Pests and Diseases: Susceptible to spider mites, nematodes (in the South)
Propagation: Seed; cultivars by stem cuttings
Outstanding Selections:
'Black Knight' (dark purple flowers, 4-5′ tall if cut back, 6-8′ tall if not cut back)
'Les Kneale' (white flowers with pink flush)