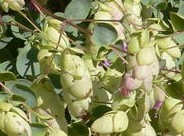 A native of Lebanon this ornamental oregano is a herbaceous perennial prized for the masses of shrimp-like, papery chartreuse bracts that hang from the wiry stems. Small pink to mauve flowers are enclosed in the bracts and bloom for several weeks from mid summer into fall. The leaves are gray-green, half inch long and aromatic but not of sufficiet intensity to use for culinary purposes. The lax habit of the plant makes it a good choice for window boxes, hanging baskets or cascading over rocks, walls and slopes. Good in the vase and for dried arrangements. Although it is drought and heat tolerant it resents humidity.
Type: Herbaceous perennial
Bloom: Small pink to mauve flowers enclosed in conspicous chartreuse bracts tinged with pink
Size: 8-18″ H x 12-18″ W
Light: Full sun
Soil: Average, dry to medium moist, very well-drained
Care: Low maintenance
Hardiness: Zones 5-9
Pests and Diseases: None of significance but susceptible to root rot in moist soil, aphids and spider mites
Propagation: Seed, root cuttings early spring or fall, stem cuttings, layering
Companion Plants: Salvia, lavender, sedum, evening primrose.