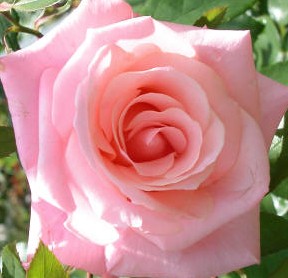 The shell-pink flowers are borne singly or in small clusters of 2-5 blossoms and fade to pale pink but always have a deeper pink center. The upright shrub produces and abundance of dark green leaves on stiff stems. The plant is vigorous but may suffer from black spot. 'High Hopes' won the Tokyo GM award in 1992.
Type: Large flowered climber
Origin: Harkness, Britain, 1992
Parentage: 'Compassion' x 'Congratulations'
Flower Size: 3-4"
Petal Count: 25-32
Scent: Medium; sweet, spicey
Flowering: Repeats well
Plant Size: 10- 13' H 7-10' W
Hardiness: Zones 6-9
ARS Rating: NA.