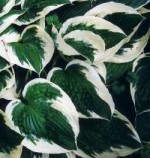 'Patriot' has had a prominent place in my garden for over 10 years and I never fail to enjoy it. The outstanding characteristic of this "Hosta of the Year" for 1997 are the wide, pure white, irregular margins surrounding the dark green centers of its leaves. This is one white that does not fade or change color. It stays bright white throughout the summer even after many weeks of heat and humidity. To add to 'Patriots' charms is the fact that is can tolerate quite a bit of sun so it's a good choice for that place in the shady garden that gets a dose of sunlight everyday. Forming a mound about 30" across and 18" high it fits nicely into most shade gardens and lights up its surroundings.
Type: Herbaceous perennial.
Bloom: Lavender flowers are borne on stalks up to 34" tall in mid summer.
Foliage: Oval, 7" long leaves with broad, irregular white margin around a dark green center.
Size: 12-20" H x 24-30" W.
Light: Shade to part sun.
Soil: Rich, moist, well drained, but tolerates less.
Fertilizer: Apply a complete fertilizer in spring.
Hardiness: Zones 3-8.
Care: Water during dry spells.
Pests and Diseases: Slugs and snails can be a problem; susceptible to leaf spot and crown rot.
Propagation: Division in spring or fall.
Companion plants: Astilbe, hydrangea, ferns.