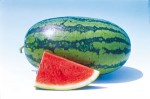 The hot days of summer are made so much more enjoyable by the cool refreshing taste of watermelon. And 'Sweet Beauty' , an All American Selection winner of 2004, is one of the best. Weighing in at 6-7 pounds, this is the kind of watermelon you can eat all by yourself at one sitting, or share with a friend if you feel generous. Not only is it sweet and tasty but it is easy to grow and matures early. You can expect 3-4 melons per vine.
Days to Harvest: 77-80
Planting Date: Plant directly in soil when the soil temperature is 60 F or more.
Spacing: Plant seeds 1-3" deep in hills 8' apart. Thin to 3-4 seeds/hill.
Germination: 7-14 days at 75-85 F
Size: 3' H x 9' W
Light: Full sun
Water: Days to Harvest:
Soil: Fertile, moist, well drained. Prepare soil before planting by digging a bushel size hole and mix equal parts compost and soil. Add a complete fertilizer, mix well, and refill the hole, creating a hill.
Fertilizer: See Soil above.
Care: Mulch plants to conserve moisture, maintain an even temperature, and keep the developing melons off the ground. To harvest, rap the melon with your knuckles watermelon; ripe melons will have a muffled sound, unripe will give off a "ping" sound.
Pests and Diseases: Virus-carrying insects, such as cucumber beetles can cause plants to die.
Suitable for containers? No