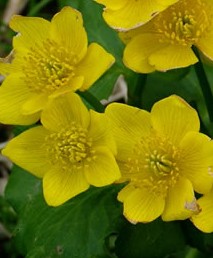 This herbaceous perennial is native to the Northern Hemisphere where it is found growing in marshes, stream edges, and other wet areas. A member of the buttercup family, marsh marigold is not a marigold or even in the same family. Plants form a mound of large, glossy, heart-shaped leaves on long stalks together with hollow branching stems that bear smaller leaves and clusters of flowers. The bright yellow flowers are 1-2″ across, appear in the spring, and resemble those of the common buttercup. They are made up of 5-9 waxy sepals that look like petals, and numerous conspicuous stamens surrounding a central bundle of carpels. Each carpel produces numerous seeds that are attractive to birds and small rodents. Marsh marigold is an excellent choice for the wettest part of a rain garden and can also be used on the edge of ponds or streams, and in bog and water gardens.
Type: Herbaceous perennial
Bloom: Bright yellow flowers 1-2 inches across in spring
Size: 1-2′ H x 1′ W
Light: Full sun to part shade; needs some shade in hot climates to avoid drying out
Soil: Wet, boggy
Care: Low maintenance
Hardiness: Zones 3-8
Pests and Diseases: None of significance; susceptible to rust and powdery mildew
Propagation: Seed
Companion Plants: Blue flag (Iris versicolor, I virginica), false hellebore (Veratrum viride), mayapple (Podophyllum peltatum), swamp pink (Helonias bullata).