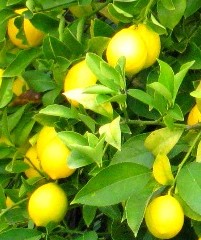 Meyer lemon is native to China where it is a popular patio and container plant. Brought to the United States in 1908 by Frank Meyer, it is believed to be a cross between a lemon and either a mandarin or common orange, and is commercially grown in Texas, Florida, and California. The plant can be either a shrub or small tree, is evergreen, and attractive all year long. It has glossy dark green leaves and fragrant white blossoms in spring. The fruit is rounder, sweeter, and less acidic and has a thinner skin than standard lemons. It is egg yoke yellow with a tinge of orange, and has dark yellow pulp with a complex citrus taste. Fruit production continues all year but is heaviest in the winter. Meyerii lemons make excellent patio or container plants and can be grown inside during the winter in cold climates if sufficient light is provided. The lemons are excellent for cooking. The originally trees brought to the United States were symptomless carriers of Citrus tristeza virus, a deadly disease that has destroyed Citrus crops all over the world but an "Improved Meyerii lemon" that does not carry the virus was released in 1975 by the University of California.
Type: Evergreen shrub or small tree
Outstanding Features: Fruit, flowers
Form: Shrubby but can be pruned into tree form
Growth Rate: Becomes fruit bearing in four years from seed
Bloom: Fragrant white flowers in spring
Size: 6-15' H x 6-15' W (plants in pots are smaller than those grown in the soil)
Light: Full sun
Soil: Fertile, light, well-drained; let soil dry out between watering.
Hardiness: Zones 9-11
Care: Fertilize with high nitrogen fertilizer with granular fertilizer monthly, or slow-release every three months
Pests and Diseases: Scale, aphids, whiteflies, mealybugs, citrus thrips, citrus cutworms, leaf rollers, citrus red mites
Propagation: Cuttings, budding
To buy 4-5 Year Old Improved Meyer Lemon Tree in Pot from Amazon.com click here.