This semi-evergreen shrub is a native of subtropical South Africa where it grows in a variety of habitats ranging from disturbed areas, such as roadsides, to forested areas and grasslands. It has been introduced into Australia and New Zealand where it has become a weed. The plant is handsome all year long with its shiny green leaves that are 1.5-3 inches long and have finely toothed margins. In early spring the leaves fall off and are quickly replaced by fresh growth that is tinged with pink. Small, yellow, fragrant flowers appear in spring but loose their petals quickly as they produce fruits. The fruits are green at first but ripen to black as the sepals surrounding them turn bright red so that many trees appear to be covered with red flowers. The black fruit and red sepals are thought to resemble the head of Mickey Mouse, hence the common name. The flowers attract bees and butterflies while the fruits are eaten by birds that disperse them throughout their territory. Plants are good garden plants, and are suitable for hedges, containers, and espalier. They are salt and wind tolerant so can be used along the coast.
Type: Semi-evergreen shrub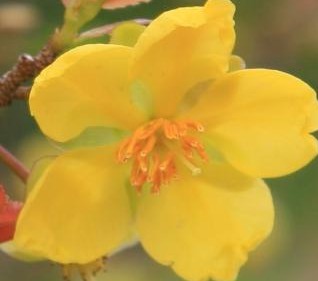 Outstanding Feature: Fruits with colorful sepals
Form: Rounded, dense crown
Growth Rate: Slow at first, becoming more rapid
Bloom: Fragrant yellow flowers about ¾ inch across with five petals in spring
Size: 4-8' x 3-4' W
Light: Full sun to part shade
Soil: Fertile, moist but can tolerate some drought if planted in some shade.
Hardiness: Zones 9-11
Care: Prune after flowering to encourage new shoots and maintain shape
Pests and Diseases: Galls
Propagation: Very fresh seed, semi-hardwood cuttings in summer.