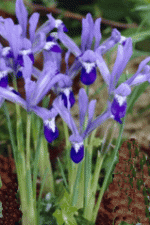 This iris, native to the area of the Caucausus makes its appearance early, about the time that the snow drops, glory-of-the-snow and early crocuses bloom. One of my favorite early spring combinations is a purple-blue iris with a golden yellow crests grown with golden yellow crocuses that bloom at the same time. Smashing! Netted iris, come in white, yellow, and various shades of purple and blue depending on the cultivar. They are fragrant but you have to sniff at close range to appreciate their delicate scent. The grass like leaves grow to 15" after flowering but discretely disappear by late spring when the plant goes dormant. The netted appearance of the bulb gives the plants their species name, reticulata, as well as their common name. Netted iris are excellent used in clusters in rock gardens, at the front of the border, or in forced pots to brighten winter days.
Type: Bulb.
Bloom: Blue, purple, yellow or white 2.5" wide flowers with yellow crest on falls in early spring.
Size: 4-5" H x 4" W.
Light: Full sun to part shade.
Soil: Average, medium, well drained; relatively dry soil in the summer is necessary for bulbs to set buds for the next year.
Fertilizer: Fertilize when planting and again after blooming.
Hardiness: Zones 5-9.
Care: Plant 3-4" deep and 3-4" apart in fall. Allow foliage to turn yellow or brown before removing.
Pests and Diseases: No serious pests or diseases but susceptible to Fusarium basal rot.
Propagation: When flowering diminishes offsets can be removed from the bulbs and used to produce more plants. The offset may take a couple of years to produce flowers and may never do so.
Companion plants: Early blooming crocuses, glory-of-the-snow, snowdrop.