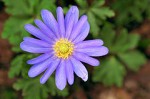 Native to southeastern Europe, Turkey, Lebanon, and Syria Grecian windflower is a herbaceous perennial belonging to the buttercup family, Ranunculaceae, that also includes delphinium, clematis, and hellebore.  The plants grow 6-8″ high  from a tuberous root system and have softly hairy fern-like leaves that are 3″ wide and dissected into 3 deeply cut segments.  The daisy-like flowers appear in early spring and can last a month, especially if in an area protected from the wind. They are 2″ across and lack petals but have colorful blue tepals surrounding the center of yellow stamens.  Cultivars are available in  various shades of blue, white, pink and purplish red. They can bring early color to a rock garden, perennial border, or open woodland with equal success and are especially attractive when planted in large drifts.  Plants go dormant after flowering.  The genus name, Anemone, is probably a corrupted Greek loan word of Semitic origin referring to the lament for the slain Adonis or Naaman, whose scattered blood produced the blood-red Anemone coronaria.  The specific epithet, blanda, is the Latin word meaning pleasing.
Type: Herbaceous perennial
Bloom: Pink, white, blue, reddish purple daisy-like flowers in early spring.
Size: 6-8" H x 3-6" W (the species is smaller than cultivars).
Light: Full sun to part shade.
Soil: Average, medium moist, well-drained.
Hardiness: Zones 5-8.
Care: Low maintenance
Pests and Diseases: Leaf spot and rhizome rot may be problems.
Propagation: Division after the foliage matures.
Companion Plants: Early flowering deciduous trees and shrubs, grape hyacinth,daffodil, kaufmanniana tulip
Outstanding Selections:
'White Splendor'
'Blue Shades'
'Pink Splendor'
Comments: When planting, soak tubers in warm water for at least 1 hour, overnight if possible, to facilitate rapid root growth.
Photo Credit: Wikipedia