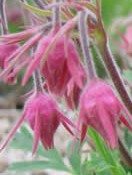 A native of north America, this rhizomaceous perennial wildflower forms mounds of gray-green fern-like leaves that are pinnately divided into seven to nine narrow toothed leaflets. The plant is soft and hairy and has red stems. In spring , pink to purplish pendent globose flowers 1.5" wide appear and are followed by fuzzy silvery pink seedpods that look like smoke, giving the plant its common name. Other names inspired by the seed pods include lion's beard and old man's whiskers. Prairie smoke tolerates dry conditions and cannot tolerate wet soil in winter.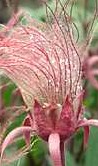 Type: Herbaceous perennial
Bloom: Pink to purplish pendent flowers, 1.5" wide in spring
Size: 6-15" H x 12" W
Light: Full sun; tolerates some shade.
Soil: Average, evenly moist, well-drained
Hardiness: Zones 3-7
Care: Low maintenance
Pests and Diseases: None of significance but susceptible to root rot in wet soils in winter.
Propagation: Division
Companion plants: Spring bulbs, blazing star (Liatris spicata), shooting star (Dodecatheon meadia), fescue (Festuca ovina) and other prairie plants.