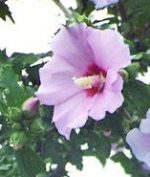 Rose of Sharon is a vigorous deciduous shrub growing 8-10' tall and is a member of the mallow family, Malvaceae ,that also includes okra, cotton, coffee, and hollyhock. It is native to Asia from India to China but introduced into the American colonies by the 18th century and is now considered invasive from New York to Missouri, south to Georgia and Texas, plus Utah. The medium to dark green leaves are two to four inches long and have three lobes with coarsely toothed margins and palmate veining. Plants are late to leaf out in the spring and late to fall in autumn. The showy Hollyhock-like flowers bloom singly from late summer to early fall and are two to four inches across. Those of the species are pink with a red eye but cultivars are available in white, magenta, violet, blue, and combinations and may be double. Each flower has a conspicuous staminal column in the center. Plants are easy to transplant and grow, and thrive in heat and humidity as well as in urban conditions. They are very attractive shrubs when blooming but tend to get leggy at the base and have only one season of interest. The genus name, Hibiscus, is the Latin name for the plant. The specific epithet, syriacus, refers to Syria where the plant was mistakenly thought to have originated.
Type: Flowering deciduous shrub
Outstanding Feature: Late blooming flowers
Form: Vase-shape
Growth Rate: Rapid
Bloom: Hollyhock-like pink flowers, two to four inches across, with prominent stamina column in the center, from late summer to early fall.
Size: 8-12' H x 6-10' W
Light: Full sun for best flowering but tolerates some shade
Soil: Average, organically rich, medium moist, well-drained
Hardiness: Zones 5-8
Care: Prune back to 2-3 buds in late winter for largest blooms.
Pests and Diseases: Generally healthy but susceptible to leaf spots, blights, rusts, canker, Japanese beetles, whiteflies and aphids.
Propagation: Seed (unrlieable color when using seeds from cultivars), stem cuttings
Outstanding Selections: Many are available including sterile ones); these give an overview of what is available.
'Aphrodite' (dark pink flowers with darker eyespot; heavily textured foliage)
'Blushing Bride' (double pink flowrs)
'Bluebird' (Blue flowers with reddish base)
'Diana' (white flowers with no blotch and no or few seeds, vigorous)
'Helene' (white flowers with maroon base; few seeds)
'Minerva' (lavender flowers with pink tint and red eye; heavy bloomer; 9' tall; good foliage)
'Purpureus Variegatus' (Mottled white, yellow gray leaves)
'Pink Giant' ( 5" wide pink flowers with dark red central blotch; 8' tall and wide)
'Tricolor' (double flowers in pink, red, and purple on some plant)