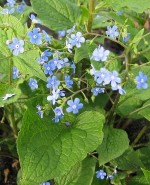 The small sky-blue flowers of Brunnera are one of the most endearing sights in the spring garden. They look like the flowers of forget-me-nots with their yellow eyes and are borne in delicate airy sprays of the flowers begin in mid spring and continue for several weeks. As the flowers fade large, hairy, heart-shaped basal leaves are produced and can make an attractive, coarse, groundcover if they like the site. Brunnera are happiest in a moist shady environment such as found along a stream bank. They will grow and multiply in such a home without need for dividing or other maintenance.
Type: Herbaceous perennial.
Bloom: Small sky-blue flowers with yellow centers are borne in loose racemes in spring to early summer.
Foliage: Basal foliage is lettuce green darkening as the summer progresses. The leaves are hairy, heart shaped, and about 6" long.
Size: 1-1.5' H x 1.5-2' W.
Light: Part shade; can tolerate some sun in the North if kept constantly moist.
Soil: Fertile, moist, gravelly.
Hardiness: Zones 3-8.
Care: Low maintenance.
Pests and Diseases: None of significance.
Propagation: Reseeds; root cuttings, division in spring or early fall.
Companion plants: Bleeding heart (Dicetra spp.), Tiarella, pigsqueak (Bergenia cordifolia),

'Jack Frost' (leaves with frosted -look)


'Hadspen Cream' (leaves with creamy-white borders)


'Langtrees' (dark green leaves with silver-white spots on borders)


'Variegata' (large clear white borders)