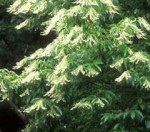 This graceful native tree offers both flowers in the summer and beautiful autumn coloration. The lily of the valley like flowers hang in rows from clusters of 6-8" spikelets and cover the tree in summer. A tree in full bloom is a sight to behold! Bees love the flowers and oxydendron honey is one result. Pale yellow fruit capsules follow the flowers and persist into fall when the rich green lustrous leaves reliably turn orange, red, or purple. This is a fabulous tree to use along a woodland as a background tree or in the garden as a specimen tree.
Type: Deciduous tree.
Outstanding Feature: Brilliant orange, red or purple foliage in autumn.
Form: Conical with dropping branches; slender trunk.
Growth Rate: Slow-Moderate.
Bloom: Tiny white fragrant lily of the valley-like flowers are borne in slightly pendulous racemes in late spring to summer depending on the zone.
Size: 40' H x 25' W.
Light: Full sun but with roots in shade; tolerates part shade but fall color will not be as spectacular.
Soil: Thrives in moist well-drained acid soil but tolerates less.
Hardiness: Zones 6-9.
Pests and Diseases: None of importance.
Propagation: Seeds may be sown in autumn; semi-ripe cuttings in summer (use rooting hormone powder for best results.)
Comments: Flowers attract bees and butterflies; seeds attract birds. Sensitive to pollution, soil compaction, and root disturbance; not for urban areas.