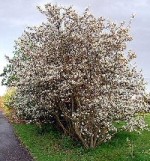 Juneberry is a triple delight with its spring flowers, June berries, and fantastic autumn foliage. It blooms with spring bulbs and its white flowers touched with pink are beautiful with blue flowering bulbs or dark purple periwinkly (Vinca minor) planted below. In the fall it will turn brilliant orange and red color and add to the autumn display. A small tree or shrub, it is ideal for the small or large garden, woodland margins, and informal hedges or screens. The berries can be used to make jellies, jams, and pies if you can harvest them before the birds get them.
Type: Deciduous multi stemmed tree or shrub.
Outstanding Features: White flowers in spring; edible purplish berries in June; orange to red autumn coloration.
Form: Broad.
Growth Rate: Moderate (12-18"/year).
Bloom: Dropping clusters of slightly fragrant, white 5 petaled showy flowers in spring (April) before the leaves followed by purplish berries in June.
Size: 15-25' H-30' W.
Light: Full sun to part shade.
Soil: Average, medium, well drained; neutral-acidic.
Hardiness: Zones 4-8.
Care: Low maintenance.
Pests and Diseases: None of importance; Rust, leaf spot, fire blight, powdery mildew and canker are occasionally a problem.
Propagation: Softwood cuttings.
Comments: Berries attractive to birds.