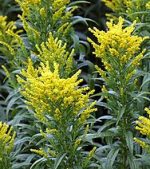 This herbaceous perennial is the result of a cross between two plants native to North America, Aster ptarmicoides and Solidago canadensis (goldenrod). From its aster parent it inherited a more controlled growth habit, lower stature, and daisy-like flowers that are larger than those of its other parent.  From the goldenrod parent it inherited its color and the large number of flowers in each cluster.  x Solidaster is in the aster family, Asteraceae, that also includes sunflower, yarrow, and lettuce.  Growing up to 2.5′ tall, the plant has narrow, lanceolate medium green leaves up to 6″ long and arching plumes of pale yellow flowers 1/2″ across over a long bloom period from late summer to fall.  A popular filler for flower arrangements the plants are also attractive in the border and attract butterflies and other beneficial insects.  The genus name, Solidaster, is a combination of the parents' names.  The specific epithet, luteus, is the Latin word for yellow and refers to the color of the flowers.
Type: Herbaceous perennial
Bloom: Arching plumes of pale yellow flowers 1/2″ across from late summer to fall
Size: 2-2.5′ H x 2-2.5′ W
Light:Full sun
Soil: Average, dry to medium, well-drained
Hardiness: Zones 4-9
Care:Low maintenance
Pests and Diseases: Susceptible to rust and powdery mildew. Plant with sufficient space for good air circulation to reduce fungal problems.
Propagation: Division or basal cuttings in spring
Companion Plants: Buddleia, Purple coneflower, New England aster
Photo Credit: Wikipedia