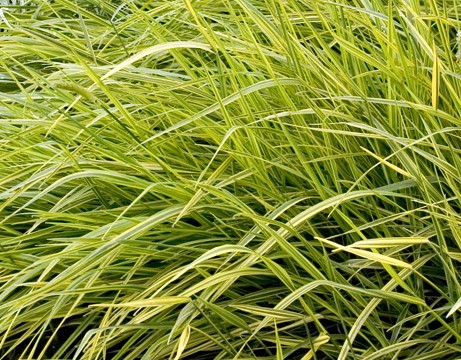 This cool-season grass is native to Eurasia where it inhabits meadows and woodlands. It slowly spreads to form a low growing mat of light yellow leaves with bright yellow-green stripes that work especially well with spring bulbs. The leaves are about 1/8 to ¼ inch wide and four to six inches long but have a tendency to flop. The dense flower spikes are tan and appear in spring and rise six to twelve inches above the foliage. Yellow foxtail grass is attractive planted alone or in masses and can be used as a groundcover and a spiller.
Type: Evergreen cool-season grass
Bloom: Dense foxtail-like panicle in spring
Size: 4-6 H (with flower spikes 6-12" taller) x 12-24" W
Light: Full sun; afternoon shade in warm climates
Soil: Average, moist, well-drained
Hardiness: Zones 6-9
Care: Low maintenance; if plants look shabby in mid summer cut them back to five inches for new growth my fall.
Pests and Diseases: Rust in warm climates
Propagation: Division in spring or fall
Companion Plants: Spring bulbs such as grape hyacinths; ajuga; Imperata cylindrical "Rubra'; dalhias.