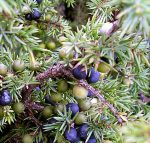 Well known to gin drinkers, juniper berries  are not true berries but the cones of Juniperus communis and made up of fleshy scales.  They have a distinctive flavor and are used as a spice in many dishes in European cuisines ranging from cakes and candies to venison and ceviche.  My paternal grandmother, Helen S. Wright, included a recipe for juniper-berry wine in her book, Old Time Recipes for Home made wine.  A modern recipe aailable on the Internet is recommended for treating a variety of ills but Grandmother's was more for nipping.
Here is the recipe in the words of my grandmother:
Take four and one-half gallons of cold soft water, seven pounds Malaga or Smyrna raisins, two and one-quarter quarts juniper-berries, one-half ounce red tartar, one-half handful wormwood, one-half handful sweet marjoram, one pint whiskey or more.  Ferment for ten or twelve days.
To buy Old Time Recipes for Home Made Wines by Helen S. Wright from Amazon.com  Click Here.
Photo Credit: Wikipedia