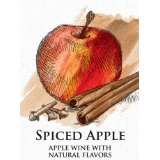 With a fresh crops of apples at hand during the holidays what could be better than an old fashioned apple wine made the way it was done over 100 years ago? Evoking the fashions and customs of bygone days, this recipe comes from my grandmother's book, Old Time Recipes for Home Made Wine, published in 1909 (see my review of the book). Grandmother collected the recipes from her friends and neighbors in Massachusetts and I pass the apple wine recipe on exactly as she wrote it.
TO MAKE APPLE WINE
To every gallon of apple juice, immediately as it comes from the press, add two pounds of common loaf sugar; boil it as long as any scum rises, then strain it through a sieve, and let it cool. Add some good yeast, and stir it well. Let it work in the tub for two or three weeks, or till the head begins to flatten; then skim off the head, drain it clear off and turn it. When made a year, rack it off and fine it with isinglass; then add one-half pint of the best rectified spirit of wine or pint of French brandy to every eight gallons.
For more information on apple wine in the modern world see:
http://www.extension.iastate.edu/wine/apple-wine
To buy apple wine from Amazon.com click here.