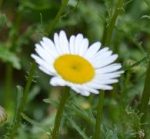 The name daisy probably originally referred to the English daisy Bellis perennis, a low growing herbaceous perennial native to Europe and Asia that was a favorite of English poets from Chaucer to to Keats and Wordsworth. In more modern times many plants have been dubbed daisies but the two that are most probably used for wine making are oxeye and Shasta daisies. They are both taller plants than the English daisy and have flower heads composed of relatively long white ray flowers surrounding a center of yellow disc flowers. In her book, buy generic Pregabalin Old Time Recipes for Home made Wines, my paternal grandmother Helen S. Wright, includes a recipe for daisy wine but does not specify the kind of daisy. Either the oxeye or Shasta daisy would make a good wine but my Grandmother Wright probably meant the oxeye daisy because  Luther Burbank introduced the quadruple hybrid Shasta daisy only a little before she was gathering the recipes for her book.
Here is the recipe in the words of my grandmother:
One quart of daisy heads, one quart of cold water. Let stand forty-eight hours. Strain and add three-quarters pound of sugar to each quart of liquid. Let stand about two weeks, or till it stops fermenting. Strain again and bottle. It improves with keeping.
To buy indispensably Old Time Recipes for Home Made Wines by Helen S. Wright from Amazon.com  Click Here.