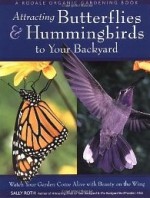 One of the great pleasures of having a garden is watching the butterflies and birds that come to live there. Their beauty alone makes them desirable guests but added to that is the movements they add to the garden as they dart or flutter around from flower to flower. As you watch them you will notice behavior patterns that make them fascinating and they can entertain you for hours over the whole gardening season. Sally Roth's book, Attracting Butterflies and Hummingbirds, is a treasure trove of ideas that can help you bring these delightful visitors to your garden.
The first half of the book is devoted to detailing the needs of butterflies and hummingbirds with ways of meeting those needs. Individual chapters are devoted to nectar, water, supplemental food, shelter, nest sites and host plants. The good news for gardeners is that there are hundreds of good garden plants that will supply nectar, shelter, perches, and food for caterpillars, and many attractive water features that will supply refreshment. All through these chapters there are charts and lists of plants that are attractive to butterflies and hummers, chosen for specific characteristics. You can choose from charts of annuals, perennials, vines, or ground covers for butterflies, hummers, or both. There are also charts with information on plants for providing shelter and meeting the needs of caterpillars. Directions are given for making items to meet the needs of our winged friends such as butterfly fruit feeders, a wet spot for a "puddle club" of butterflies, and a butterfly farm. Suggestions are given for supplying nesting materials for hummers and meat scraps for butterflies. Numerous colorful photographs and drawings illustrate the discussions.
After the basics of butterfly and hummer stewardship are covered, Roth puts it all together in a chapter on garden design. She presents seven designs that "are easy to care for and bloom abundantly". Starting with gardens composed entirely of annuals she leads to those with perennials, shrubs, and trees. The chapter closes with lists of plants for particular color schemes that include descriptions and care information so that the reader can choose the size, shape, and arrangement of the garden. The 'pot of fire', a container garden, and the herb garden for butterflies are especially appealing.
One of the most fascinating chapters in the book is the one on behavior; it can be read over and over because it is so rich in detail. Roth points out that the more you look, the more you will see. At first you will focus on who is who and what flowers are most popular but as time goes by you will notice the way various butterflies bask in the sun or how a male attracts the female of his choice. Roth notes that butterflies can be used as weather indicators, letting you know early in the morning if the day is going to be a scorcher.
The last two chapters are devoted to helping the reader become more familiar with the hummers and butterflies that might come to the garden and urges her/him to keep a journal recording the site, conditions, and behavior of the winged guest. For each hummer, information is given on range, habitat, aerial display, nesting, and favored plants, in addition to a picture and description. The entries on butterflies include a picture, description, and information on range, caterpillar, and favored host and nectar plants.
If you want to attract butterflies and hummers to your garden this is a great source of ideas. There are many concrete suggestions for getting started and plenty of background material so that the reader understands the whys and can customize his/her garden to meet specific needs and wants. Roth's practical and easy to follow directions can be used to enhance any garden from a container on the patio to a large meadow or formal garden.
To buy Attracting Butterflies & Hummingbirds to Your Backyard from Amazon.com click here.