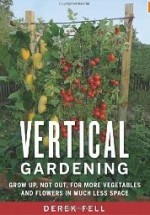 Space can be a very limiting factor in designing a garden and being able to grow all the plants you want to grow. Growing plants on trellises, arbors, columns and other vertical structures can reduce the amount of space needed to grow many plants and thus provide more room for more plants. There are a number of attractive plants that naturally grow upward, and some that take to it if given the opportunity. Derek Fell's book, Vertical Gardening, explores these possibilities.
Fells book covers all the basic information needed to grow plants vertically, from choosing the site to planting the seeds, and controlling diseases and weeds. If you are a beginning gardener this information is essential for success but if you have been gardening for a while you probably already know most of it. The value of the book lies in its novel perspective: vertical gardening. The chapter on vegetables suggests ways of growing familiar vegetables like cucumbers on trellises, and lettuce, beets, and carrots in tower pots. In addition, it introduces new vegetables like Malabar spinach, a fast-growing vine that grows quickly upward and produces a crop of succulent leaves in about 50 days.
In separate chapters Fell describes the various kinds of supports and that can be used, containers for climbing plants, and design tips for ornamental vines. He provides instructions on how to grow fruits, annual and perennial vines, as well as vegetables and gives detailed information on specific plants including the names of cultivars and varieties recommended for vertical growing. The chapters on annual and perennial vines are especially informative since most other books do not deal with them extensively and the information is fresh and rewarding.
If vertical gardening interests you, this is a good book to begin your experience. You won't need to search for another book on the topic as all the essentials are covered. Even the experienced gardener will find some new ideas that can be the inspiration to innovation.
To buy Vertical Gardening: Grow Up, Not Out, for More Vegetables and Flowers in Much Less Space from Amazon.com click here.