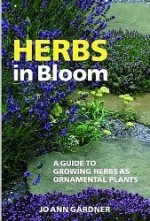 Herbs are usually grown for their foliage which is harvested for culinary or medicinal purpose with little thought given to the beauty of the flowers that many produce. Herbs in Bloom, by Jo Ann Gardner, explores the idea of growing herbs for the ornamental value of their flowers. Gardner writes in an easy to read style and fills her narrative with examples from her own experience growing herbs for over 25 years on her Cape Breton Island farm in Nova Scotia. A general discussion of cultivation techniques and garden design is followed by detailed information on specific herbs.
The first section of the book details how to grow plants in general, including propagation techniques, transplanting, and disease control. The second section deals with designing a garden where herbs fill roles as accent plants, in borders, in containers, as hedges and edgers, as ground covers, and in rock gardens. Special attention is given to naturalizing herbs and the importance of matching the plant to the habitat it needs.
The most valuable part of the book is the A-Z Plant Portraits that give detailed information on 80 genera of herbs. Each entry provides information on background and cultivation including landscape use, site selection, bloom time, traditional herbal uses, and propagation instructions. Gardener is frank about the virtues of the herbs and calls chicory "An ugly duckling until it blooms…" but goes on to tell us why she values the flowers of the plant. Related plants are also discussed bringing the total number of herbs considered to about 700. Quotes about each genus from prominent garden writers are highlighted in blue and add to the appreciation of each herb as a garden plant while numerous photographs add to the visual experience.
Three appendices give additional aids for establishing an ornamental herb garden. The first cross-references common and botanical names, second lists herbs according to their bloom time, and the third provides a list of retail plant and seed sources. An extensive bibliography concludes the work.
To buy Herbs in Bloom: A Guide to Growing Herbs as Ornamental Plants from Amazon.com click here.