buy generic cytotec online no prescription quick delivery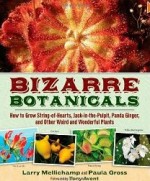 No matter how many beautiful plants we grow the excitement of growing something weird can be appealing. Authors Larry Mellichamp and Paula Gross present 78 outlandish plants that can be grown at home. They provide detailed descriptions and background as well as growing tips and a picture of each. Even if you don't want to try your hand at growing these botanical oddities, the text provides all sorts of information to engage the mind and stir up the thought "wow, that's really amazing".
buy prednisone with paypal The authors set out to produce a work that would whet the appetite for unusual plants and yet at the same time help the reader to grow the plants. They selected 78 plants with three criteria in mind: the plants had to be naturally unusual, reasonably available for purchase, and reasonably growable. The authors acknowledge that these criteria eliminated some very fascinating plants but they were more concerned about providing readers with information that could be used to entice them and help them to grow unusual plants.
After a brief introduction to the topic and botanical considerations, the authors present the plants in groups including insectivorous plants, ferns and their allies, love plants, prickly plants, succulents, and orchids. The plants in each group are discussed individually with historical background, habitat, and its unique qualities explained. Light and moisture requirement are provided as well as suggestions for growing medium and where to grow the plant, indoors, or outdoors. Tips on such problems as propagation, pest control, and over-wintering are also included. Each plant is also given a rating for growability with 1 being easy and 3 being difficult. Just for the record, 40 of them have a growablity rating of 1 meaning they are easy to grow!
Bizarre Botanicals does more than describe unusual plants; it is a guide to selecting and growing them. Using the information provided readers can indulge themselves in growing unique plants while enjoying the special qualities that set them apart from others. It's hard to resist the idea of having a black orchid, a tarantula cactus, or a bat-faced cuphea. These are perfect plants to fascinate children!
To buy Bizarre Botanicals: How to Grow String-of-Hearts, Jack-in-the-Pulpit, Panda Ginger, and Other Weird and Wonderful Plants from Amazon.com click here.