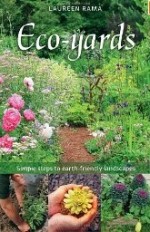 It is hard to ignore the growing concern for the environment and the need to take part in caring for it. The future of the planet depends on people getting involved and Laureen Rama's book, Eco-yards, is a good source of inspiration and encouragement for beginning the process. The author presents simple steps that can help everyone restore the local and global ecosystem by creating an eco-friendly yard. According to Rama, even if your yard consists of a pot on the balcony of an apartment, or a tiny patch of grass around a tree in the sidewalk, there are things you can do to become involved and taking an active role in the stewardship of the natural environment.
The book is organized so that readers can dip in and out of the material as their interest dictates. Some chapters provide motivation and inspiration while other give specific ways to change gardening practices in a way that work with nature and therefore protect the environment. The first three chapters are devoted to understanding the rationale behind eco-gardening, explaining the approach, general principles, and necessity for eco-landscaping. In the following chapters recommendations are given for yard maintenance and pest management in an eco-friendly manner and suggestions are made for replacing lawns with a more natural landscape. The author points out that the lawn is typically the highest-maintenance and least Earth-friendly landscape, and therefore offers the most significant opportunity of creating an eco-friendly yard. Besides, the change-over will save the gardener money as well as time. To help the gardener bring about the change from lawn to natural landscape, details are given on making new beds, the complex relationships between soil micro-organisms and plants, and various ways of making compost. Two chapters are devoted to designing an eco-yard with a focus on a water-wise design that will reduce or eliminate the need to water the garden by using a variety of techniques such as rock rivers, cisterns, and French drains. Believing in the value of producing food in the home garden, Rama includes a chapter on growing vegetables.
Rama's dedication to the idea of creating a healthy and sustainable landscape comes through in every page of the book. Hints for avoiding harmful practices and embracing new ones are high-lighted in insets, numerous pictures, mostly black and white, illustrate major points, and summaries bring together key ideas at the end of every chapter. Rama uses sound theory combined with practical advice to advance the idea of a healthy and peaceful environment through responsible gardening practices.
To buy Eco-yards: Simple Steps to Earth-Friendly Landscapes from Amazon.com click here.