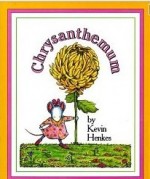 Kevin Henkes' book Chrysanthemum is an endearing story that is especially appropriate for children about to start school for the first time.  He combines a good story line with colorful pictures, clever writing style, and special message to create a book that appeals to young and old.  With its lively dialogue and different levels of meaning, it is a great book for reading aloud to both individuals and groups.
Chrysanthemum is a little girl (mouse) whose parents gave her a name they thought was perfect.  But when Chrysanthemum goes to school she finds that the other children tease her about her very long name that scarcely fits on a name tag.  Chrysanthemum  is reassured by the love and caring attitude of her parents until the problem is unexpectedly solved at school.
Henkes is able to identify and express the special feelings that children have, in this case the fear of being teased because they are different and unique.  He shows us an adorable, sweet, vulnerable girl and how she reacts to the taunts of her classmates because of her name.  Any child that has been teased can relate to Chrysanthemum and see that they are not alone and that things can turn out well in the end.  At the same time, the book shows all children how hurtful teasing can be, a very important message in these days of bullying at school.
The colorful illustrations and playful writing style greatly enhance the book and its message.  The illustrations are pen and ink and filled with details that add layers of information to the story.  A full page of Chrysanthemum's baby pictures tell us a lot about Chrysanthemum's as a preschooler.  A picture of Chrysanthemum's parents shows them consulting a book on mouse psychology to help their daughter while a picture of Mrs. Delphinium Twinkle, the music teacher, shows us a gal with a tail twisted into a treble clef sign. Likewise, Henkes plays with words to create humor and a whimsical mood.  When Chrysanthemum is hurt by the taunts of her classmates she is "wilted" but when everything turns out well she "bloomed".  Certain phrases, like her "name was absolutely perfect", reappear like a chorus in a song, inviting everyone to join in.
This is a heartwarming, tender story that can not help but touch every child and adult who has ever had a fear about being accepted, and who hasn't?  This is the kind of book you read over and over and can enjoy for a life time, as a child, a parent and grandparent.  I love it and I haven't even read it to my granddaughter yet.