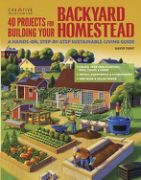 David Toht's book, 40 Projects for Building Your Backyard Homestead offers directions for a variety of projects to aid in sustainable homesteading. The projects were chosen with simplicity of construction, budget, and convenience of use in mind and range from building raised beds, planters, fences, trellises and sheds, to installing a windmill. Directions are given for 5 fences, 2 chicken coops, 3 sheds, and 3 beehives and information is included on aquaponics and hydroponics as a foundation for exploring them further. A final chapter provides directions for meeting the plumbing and wiring needs of a backyard homestead.
Each project has an explanation and description of the the final product, a list of all the materials and tools needed, an exploded view, and  step by step directions with a photograph to illustrate the techniques used.    Each step has it's own page with a detailed insert as needed, and 1 to a few sentences describing the step.  The steps are baby steps and problems are anticipated in order to avoid them.  Every step is very well described and includes no extraneous material.
Most of the projects are basic and could be done with a knowledge of basic woodworking skills and a familiarity with power tools. A beginner would have a difficult time but an experienced DIYer would probably not be challenged. Although some projects could be done alone, others would benefit from a helper, at least at critical moments. Over all, an excellent book to get started on a sustainable backyard homestead.
To buy 40 Projects for Building Your Backyard Homestead from Amazon, click here.